Last week I told you about Caring Santa, Santa photos for children with special needs taken at over 100 Simon mall locations nationwide. Today we had our Santa photos taken and I wanted to share our experience.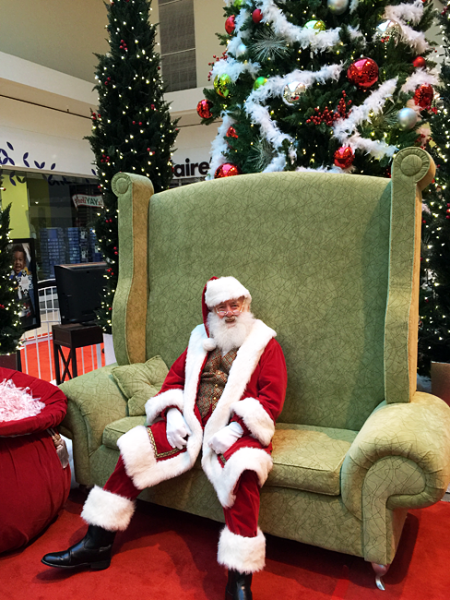 8am feels early on a Sunday morning, but it made for a quiet mall, a slower pace and easy parking – definitely worth it.  At check in we were given a number for our place in line, a cute stuffed snowman toy, and a bagged Panera breakfast (bagel, cream cheese, fruit and juice) for each member of our family.  There were maybe 15 families, enjoying breakfast and coloring Christmas pictures while they waited.  The atmosphere was happy and relaxed, nobody was rushing or even watching the photo process.  Instead of calling numbers, one at a time the chief elf found each family prior to their turn so there was time to transition into photo mode.  When it was our turn, Santa was very comfortable holding V on his lap, this is not usually the case for us. It was our choice if V should stay in her chair or sit on his lap.  Santa spoke in a calm, quiet voice.  For how excited V had been all morning, she had no smiles at photo time.  Do kids do that just to torture us?  Typically smiles are easy to come by with V, but not today.  The photographer worked with us and let us come back a couple of times to try for a smile.  Of course when we got back to the car she was all smiles and loved telling her secrets to Santa about what she wanted for Christmas. Sigh…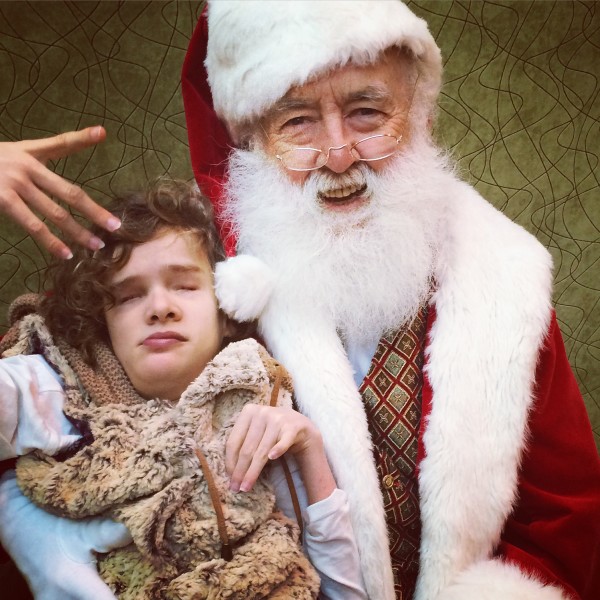 What I loved about special needs photos with Caring Santa:
I think the real Santa came down from the North Pole for this event – that Santa was legit, beard and all!  He was soft-spoken and comforting.  I saw V curiously feel his beard a few times and heard him whisper kind words to her.  I watched Santa interact with kids with a variety of special needs and he was really great with everyone.
If your child has any sensory issues, this is definitely the way to go. The mall was quiet, there weren't a lot of lights and nobody rushed you.  If you wanted more space, you could have walked down the mall a little to wait for your time.
You choose how you want the photos.  I saw Santa sit next to kids in wheelchairs and accommodate service dogs.  We tried photos with Santa holding V and with our whole family so we could maybe get more smiles.
You can see the photos right away, choose the best, or try again if needed.
Smiles or not, I still love the photo and feel like the Caring Santa environment couldn't have been better.  We'll do Caring Santa photos again next year!
Caring Santa events have had such a positive impact, that they have expanded from 7 Simon malls in 2011 to over 100 Simon malls today, including 2 in the Puget Sound area (Tacoma and Northgate). Click here to find a Caring Santa near you.
I was compensated for this post. SImon reached out to me about this event just in the Nick of time (see what I did there?) and I was excited to say yes.