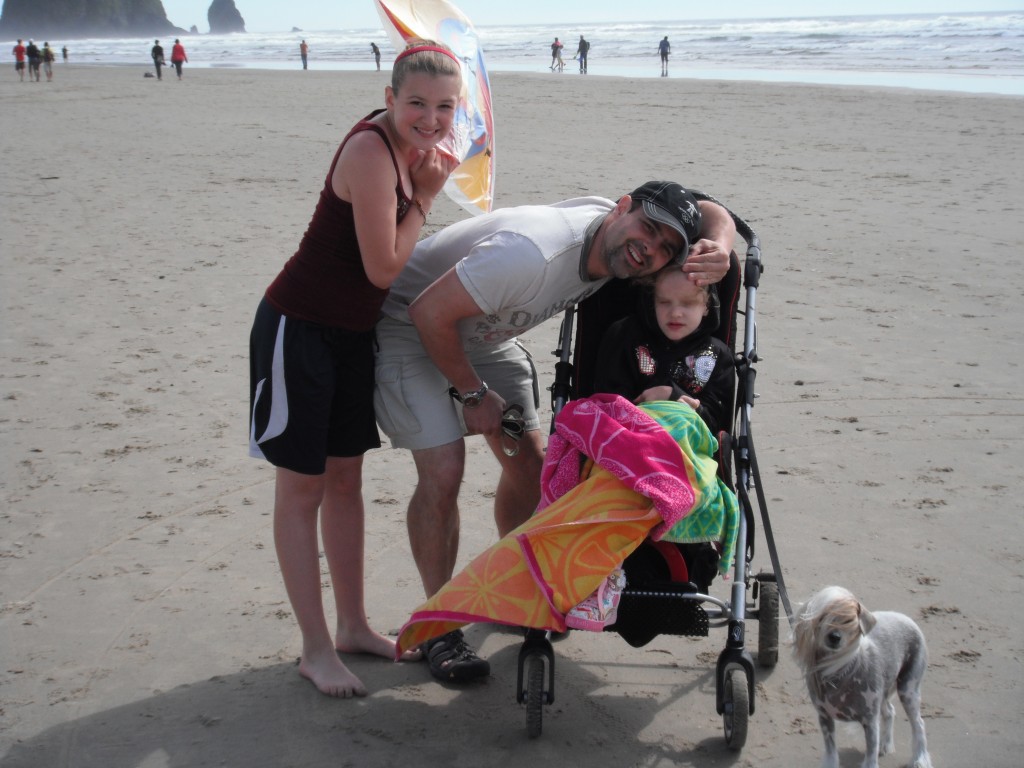 Oregon's Cannon Beach, located 3 and half hours from Seattle or one hour and half from Portland is a favorite retreat for our family, and a romantic get away for my husband and I – which doesn't happen often enough!

We're native Northwesterners, so as long as it's not raining much we'll spend the whole day walking the wide sandy beach, jumping waves, playing with a skim board, flying a kite, and exploring the tide pools at Haystack Rock. Of course the day has to end with a beach fire and s'mores! Cannon Beach is well-known as a fantastic art community, so there are plenty of galleries and beautiful shops to explore. Did I mention the great restaurants? Oh and spas…yes, something for everyone.

Accessibility:
This is one of the reasons that Cannon Beach is our go-to beach – almost everything is accessible. It is a bit of a challenge to get her pushchair to the sand, but the paved road behind the Wayfarer on East Gower Ave is the best route from town. At the south end of Cannon Beach is Tolovana Beach State Park where there is another wheelchair-friendly ramp to the beach. When we reach the sand at the end of the pavement, we turn her pushchair around and tip it on the back two wheels to pull it through the soft sand. Once we're on the harder-surfaced, damp sand we can walk the beach for hours.

The stores are accessible with nice sidewalks and ramps, and in my experience the shop owners are friendly and accommodating if the racks are a little too close.

Eat:
Dining options range from family-style pizza and grill foods, to organic/allergy conscious foods, to high end fine dining. And of course there's lots of coffee, but no Starbucks. Kind of a shocker for a Seattlite. Stopping by Bruce's Candy is a must!

Shop:
There are lots of fun shops in Cannon Beach, but we have some favs: I always check out Dena's Shop on the Corner and Purple Moon, my daughters go first to Ter Har's for their surfer-girl lines. We all enjoy catching up with the guys at the Cannon Beach Surf. There are two extensive kite shops and several fabulous art galleries. So much more…over 50 nice shops to wander through.

Do:
Surf board rental, kite shops, Mike's Bike Shop (he rents bikes, strollers and FunCycles), Coaster Theater, cooking classes, glass blowing studio.

Stay:
Inn at Cannon Beach – Nice, clean rooms, great service, free breakfast, DVD library, dog-friendly, lots of events. We've stayed here many times. The only downsides – it's several blocks to the beach (Tolovana State Park), you can't really walk to town from there, and there's no pool.

Hallmark Inn – They own several properties; the main Inn is oceanfront, as are the beach houses they manage. Hallmark Court is a few blocks from the beach and has kitchenettes. Our favorite is beach house #380. The front door is accessed by a long flight of stairs, so you'll need to off-road a little with the wheelchair to the back door, but everything except the master bedroom is on the main floor, it's a short walk to accessible beach access, and you have all of the amenities of the Hallmark Inn, including their pool and spa.