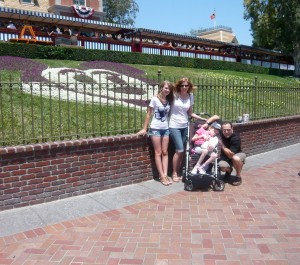 Two hours into our Disneyland adventure and I wanted to cry. For five months my daughter had endured significant health struggles and severe pain, the one thing I kept telling her was, "When you're well enough to travel, we're going to Disneyland." This would bring a rare smile to her small sweet face and gave us all something to look forward to. I would have given her anything that might make up for the pain she had been so bravely enduring. Slowly she recovered, and when she was finally able to get out I was excited to keep my promise. I love Disneyland and was looking forward to celebrating her recovery with our family.

The days before we left for Disneyland, Veronica could hardly sleep and would smile and laugh whenever you'd ask her about going to Disneyland. I loved seeing her this happy, it had been a long time coming. I was so excited and couldn't wait for her to have this experience – finally!

We walked through the Disneyland gates and were ready for the fun to begin. I've been to Disneyland many times, but last time I was here with Veronica she was 2 years old, less than 15 pounds, and it was much like traveling with an infant. This time I wanted her to be able to fully engage with the experience. I had checked the website, made phone calls and sent emails in advance to find out what I needed to know about visiting Disneyland with a special needs kid. There was some good information on the website, but when I called the California Adventure Hotel and emailed Guest Relations to ask questions, the only answer I got was, "All special needs kids are different, stop by Guest Services upon your arrival." No conversation, no questions; my impression was that they didn't care. That's fine, I'm used to figuring things out for my special needs kid.

After arriving at Disneyland I headed for Guest Relations at City Hall on Main Street and talked to a representative there. Prior to our trip I had downloaded a map of all of the accessible attractions and services at Disneyland. I had been telling Veronica about the rides she could go on and the Braille book and Descriptive Audio Disneyland offers, and wanted to make sure she tried them. In Guest Relations everyone was very friendly, they gave me a Guest Assistance Card for our family that provided an accessible entrance to the attractions. In most cases this meant a much shorter wait time for rides for our entire family. When I asked about the Braille book and Description Audio, nobody knew what I was talking about. I waited and they finally found someone who could help me, and I check those items out for a $50 deposit that was refunded when I returned them at the end of our visit.

Now that we were all geared up, we were ready for the Disneyland experience. We headed for our first ride "The Pirates of the Caribbean", a family favorite. This was the one place that our Guest Assistance Card didn't make the wait shorter, it was actually a longer wait, but it was more accessible for her wheelchair. Time passed quickly and we enjoyed checking out the gift shops along the route of our line to the accessible entrance, talking about everything we wanted to do. After "Pirates" we explored the French Quarter and made our way to Adventureland. About this point I needed to find a place for a pit stop to freshen Veronica up, and asked several Disney employees where there would be a bathroom that could accommodate her. Nobody had any answers that panned out – I went to several locations and found nothing that would work for my special needs kid. I was hot, tired, it was crowded, Veronica's hip was starting to hurt so she couldn't sit in her chair much, and I couldn't find a place to change her. Why were we here again? I wanted to cry.

We found a more secluded restroom outside what used to be "Bear Country" and is now "The Many Adventures of Winnie the Pooh". I held Veronica around her ribcage while my older daughter helped change her. That was the best option I could find, certainly not ideal, but you do what you have to do. We came out from the restroom and sat outside in a shaded area next to the river to regroup.

I was disappointed that I couldn't make this a better experience for my special needs kid. She had been so excited. I had told her about the Braille Disney book and the Audio Descriptions in the rides that we were going to try. I could only figure out how to make the Descriptive Audio tell about the part of the theme park we were in, not the descriptions while in an attraction, and the Braille book was more adult-oriented, not really interesting to my early Braille-reading special needs kid. I guess I expected too much. I guess I was thinking since it's Disneyland, a kid destination that the Braille book would be a kid book, but I realize there are probably more adults with vision problems that the book was meant for.

"Maybe we should just go back to the pool," I whispered to my husband.

He replied, "We're here, we're going to make this happen, it's just going to look a little different than we expected."

He picked Veronica up and proceeded to carry her 43-pound body all over the Magic Kingdom. He's an amazing dad.

We decided that we didn't have to see it all. That we needed to take Veronica to the places that she would enjoy most at her own pace, at the same time making sure our 14 year old daughter was having a good Disneyland experience. My husband went ahead to a couple of rides and got FastPasses. We would head toward those rides at our FastPass time, one of us exploring the area or taking a break with Veronica, while the other went on the ride with my 14 year old.

Evening came with fireworks, we visited the gift shops and our day wound down. On our way out of the park I stopped at Guest Relations to check the Braille book and Descriptive Audio device back in, and I asked them about restrooms that could accommodate special needs kids. Again, nobody had any answers, but they tried to find out. They asked other employees, called a manager, called facilities, then finally someone suggested I try the first aid station. I walked back up Main Street and there, tucked around a corner next to the Plaza Inn, was the first aid station. I walked in and asked about restroom facilities and the employee took me down the hall where there were several handicap-accessible restrooms with large padded changing tables. It was the end of the day, but I got my answer, next time I'll know – and so will you!

This Disneyland experience didn't look at all like I thought, or like I'd had previously experienced without a special needs kid, but we still made it fun and have some great memories. There's a part of me that's still processing it all, thinking about how I could have planned it better. But at my very heart, if I'm really being honest, I was disappointed with Disneyland for my special needs kid. I want to measure that statement with the fact that Disneyland has made great efforts to be very accommodating, and let's face it, my kid is complicated, but there was no knowledge of these accommodations with the employees at the park level. It would be really nice if Disneyland had a welcome packet just for special needs parents; here's where the changing area is, and here's where you can get gluten-free food, and here are some insider tips for enjoying the park with a special needs kids…hmm…maybe that's what I need to work on next….

Things to consider when visiting Disneyland with your special needs kid:

Shift your expectations
My past Disney experiences were packed; it was all so exciting and we tried to get everything in, going from attraction to attraction, seeing all of the characters. That's what I thought made a good experience. Veronica only went on a handful of rides, and I had a hard time getting her close enough to any of the characters to get pictures with them. I had to let some of that go and realize that moving at a slower pace made it more enjoyable for her.

Be prepared so you can be flexible
Your child might be overwhelmed by the sights and sounds, they might not enjoy the rides as much, they might need a gluten-free snack (they aren't that easy to find in the park). Look at the map ahead of time and find alternative attractions depending on how you child is responding to the environment. You also need to take into consideration the rest of your family and what they want to do. Devise a plan to make it fun for everyone, whether that means bringing a helper or splitting up with planned meeting times for attractions or meals that everyone can enjoy.

Know where the special needs restrooms are
They are located on Main Street at the first aid station, tucked around a corner next to the Plaza Inn.