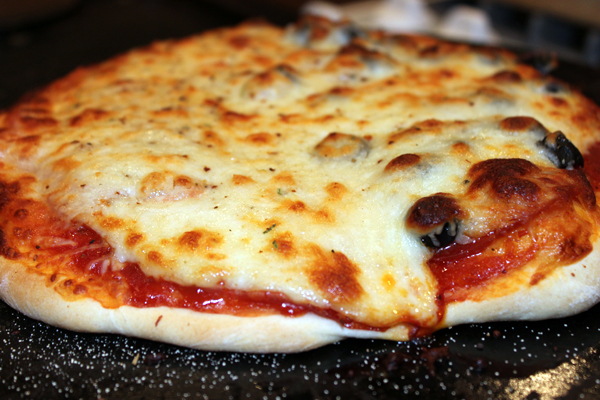 Our family's Friday night favorite is homemade pizza and movies, and we have our pizza recipe down to a science. It's fast and delicious – I hope your family loves it, too!
In the bowl of your KichenAid mixer add:
3 1/2 c. flour
2 tsp salt
In a glass bowl add:
2 tbl olive oil
1 1/4 c. warm water (about 105 degrees)
1 pkg active dry yeast
2 tbl honey or agave
Let the yeast mixture sit for a few minutes until bubbly, then add it to your flour mixture and combine using the dough hook. Let it run on medium for several minutes – it should be combined and form a ball. Drizzle with olive oil, flip over, cover with a towel and let rise for 30-45 minutes. It should be soft and spongy. We make this often, sometimes we let it rise longer, closer to an hour, because we have a lot going on and sometimes just 30 minutes. Either way it turns out good.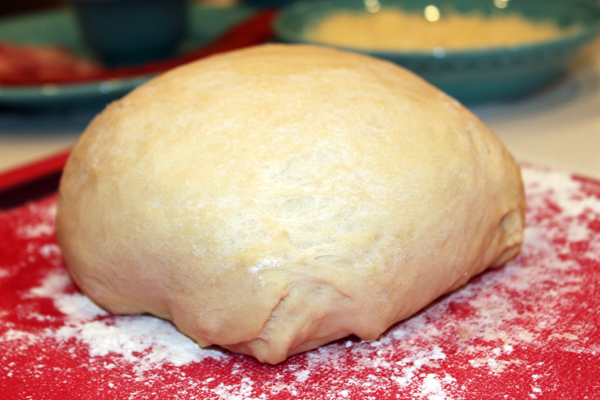 While the dough is rising, turn on the oven to 450 degrees, put in your pizza stones, and start prepping the toppings. We like combinations of marinara sauce, pesto, olives, veggies, pepperoni, Canadian bacon, some in our family like pineapple, mozzarella cheese, fresh mozzarella, parmesan cheese, fresh basil and herbs.
We love using our pizza stones and think that they make the best pizza. We preheat them while the dough is rising, roll out our dough, then place the dough on the hot pizza stone, add the toppings and then bake. If you have little kids, you might want to use the pizza stones cold or use baking sheets. Baking time will depend on whether you use a baking sheet or hot pizza stone, we bake ours for about 8 minutes. When the cheese is golden and bubbly, they are done. Enjoy!