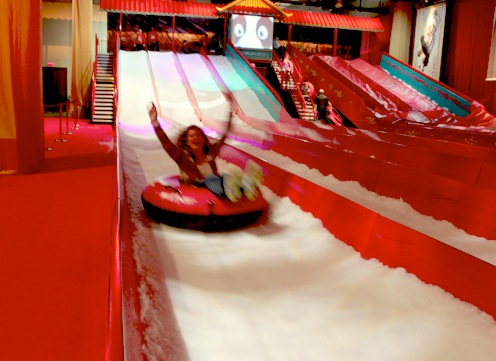 This big kid had a blast on the Kung Fu Panda Awesome Snow Tubing hill at the Gaylord Texan on a recent press trip to Grapevine, Texas.  After buying a ticket for 10 runs, you grab a tube, climb the stairs, hop on your tube, and shoot down the hill.  Yes, I was the one with my hands up yelling, "Wooooo!" all the way down – I felt like I kid again!  I found myself jumping up and practically running back up for another ride, asking the attendant at the top to give my tube a spin as I pushed off this time.  Look out kids!
Here's the scoop on the Kung Fu Panda Awesome Snow Tubing Hill:
Accessibility
There are stairs, I found no alternate ramp.  If V was with me I would have carried her up the stairs and tubed down with her – probably not spinning the first time, but she would have enjoyed that after a couple of runs.  Everyone was very accommodating and the lines were not long, we visited Monday around 11:00am.  My sense is that the attendants would help get a tube up to the top for you if your hands were full helping your special needs kid up to the top.  The stairs were not really long or steep, but they were stairs.   The environment was not too overwhelming, it wasn't real bright or loud.  It was also fairly warm, a nice factor for kids like mine who get cold fast.
Cost
Snow Tubing Only Ticket – $16.95 All Ages* Includes 10 Runs on Kung Fu Panda Awesome SNOW Tubing
Snow Tubing & ICE! Combo Tickets are also available
Adults $35.95 Includes ICE! Ticket + 10 SNOW Tubing Runs
Children (12 & under) $25.95 Includes ICE! Ticket + 10 SNOW Tubing Runs
Disclaimer: A ticket to Kung Fu Panda Awesome Snow Tubing was provided to me for purposes of review, the experience and opinions are my own.