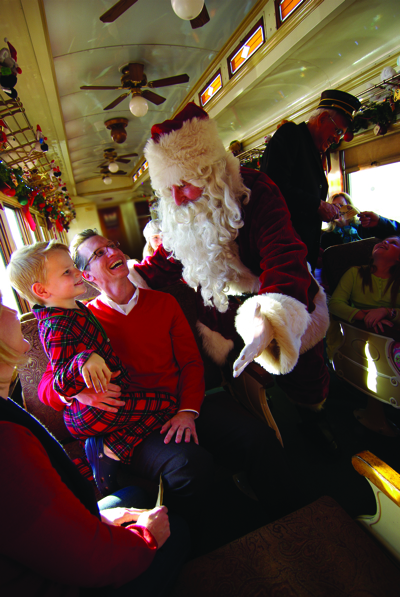 Grapevine is officially known as the Christmas Capital of Texas for good reason, with over 1,400 holiday events in 40+ days starting the week of Thanksgiving, you are sure to leave with a healthy dose of Christmas cheer. One of the highlights of these Christmas events is the North Pole Express. Maybe it's because of the popularity of Thomas and his friends, but almost every child I know has a love of trains, so when I heard about Grapevine's North Pole Express on a recent visit I had to find out more. Although the North Pole Express wasn't decked out for the holidays yet, I was able to get a taste of the experience, which was intriguing and made me want to come back to experience the full event.
As I prepared to board the North Pole Express I was greeted by the conductor, and instantly felt like I was entering the Polar Express movie, it really felt magical. The interior of the old train was beautiful and authentically maintained, as I looked around my mind starting imagining its history in the old west. I spent time talking to the conductor about the experience. It is wheel-chair friendly and might be a great way for your special needs child to warm up to Santa, giving them time to transition versus waiting in line and sitting on Santa's lap – which never works for my special needs child. She gets too stressed out by the whole experience. I think she would really enjoy hearing the sounds of the train, the excited kids and experience the Christmas ambiance, having Santa come to her after she's gotten comfortable. Plus, I have to say my kids would love climbing aboard in their jammies.  All aboard!
Want to find our more about the North Pole Express? Visit Grapevine's website.