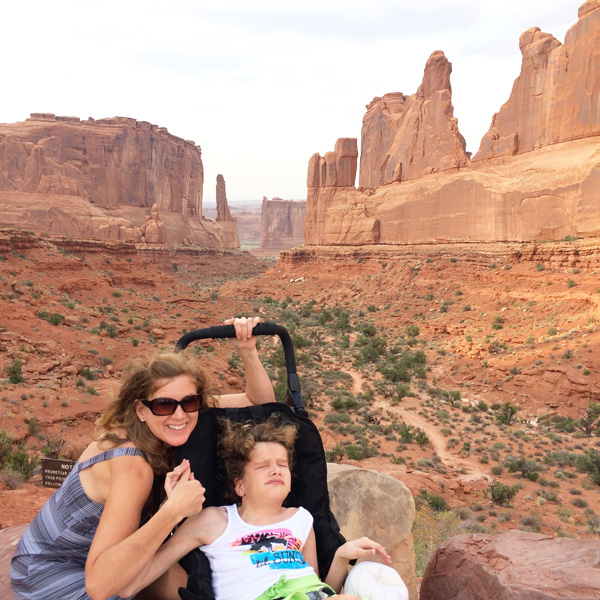 Visiting Arches National Park with a Wheelchair or Special Needs
Last summer we had an epic road trip traversing 8 states and over 5,000 miles driving our oldest to college.  It was exciting, exhausting and emotional all at the same time.  Although we were limited on time, we did make allow for some special stops – our favorite was Moab, Utah and Arches National Park.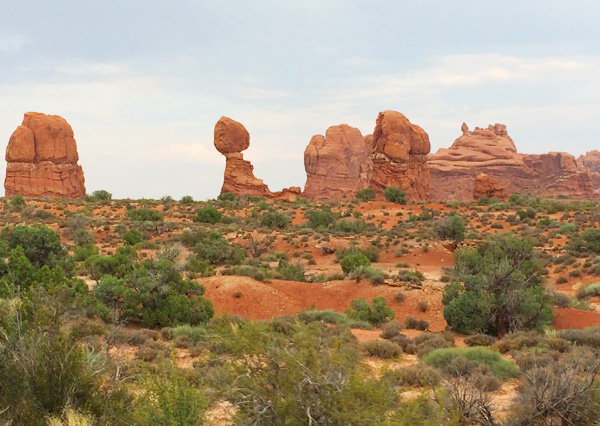 Arches National Park covers almost 120 miles of natural beauty that will take your breath away.  Arches carved out of red rocks and stone pinnacles were unlike anything we'd ever seen before.  Although much of the park is not handicap accessible, it was more wheelchair-friendly than I was anticipating, and we were able enjoy it for the time that we were there.  The best way to enjoy Arches National Park with a wheelchair is by driving the 48-mile loop, stopping at viewpoints to explore a bit.  I wish there were more handicap accessible trails, I would have liked to have done more hiking, but was spellbound as we drove through and took it all in.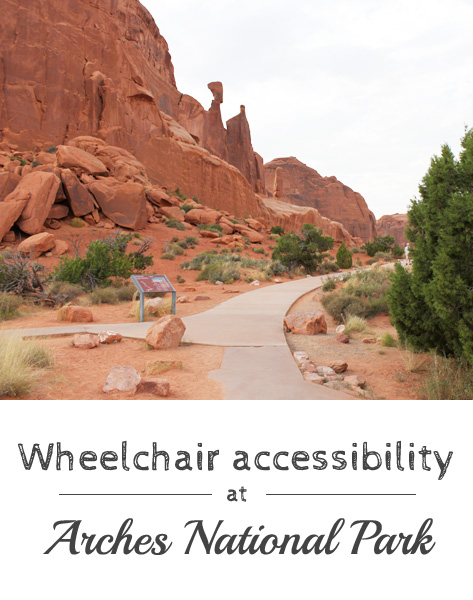 Tips for Visiting Arches National Park
The park is open 24 hours a day, but the visitor's center and pay gate is only open until 6:00pm in the summer.  We arrived just after 6:00pm and drove in and explored until sunset at no charge. Score!
After driving into the park, proceed to the parking lot at the top of the hill (Park Avenue Viewpoint ) where you'll find a few very short paved trails.  This is a great place to get out, take in the view and get some incredible photos. That's where my windy photo at the top of this post was taken.
It's a 48-mile round trip drive through the park, you can see all sorts of great rock formations from your car and stop at scenic viewpoints.  The following parts of the park are ADA compliant: Devils Garden Campground site #4H, Park Avenue Viewpoint, Balanced Rock Viewpoint and Picnic Area, Wolfe Ranch Cabin and rock art panel, and Delicate Arch Viewpoint.
Part of the Windows Trail is hard-packed dirt and wheelchair accessible.
Join in on a Ranger-led program.  There's a 45-minute nightly talk at the Devil's Garden Campground Amphitheater, and a 15-minute daily geology talk at Balanced Rock.
Have a picnic lunch by the river.  There are picnic facilities available along Upper Colorado River Scenic Byway (U-128) at Lion's Park, Big Bend Recreation Site, and Hittle Bottom. No permits or fees are required.
Enjoy the park. Swanny City Park has picnic areas and a playground (not ADA).  It is the location of Moab's Recreation and Aquatic Center and Skate Park.  Rotary City Park is ADA compliant and has some fun musical instruments the kids might enjoy.  Here are more resources for Moab parks.
This website is a great resource for more wheelchair accessibility info for visiting Moab.
Contact Splore – They help arrange adaptive outdoor adventures at locations throughout Utah from accessible river rafting to rock climbing and beyond.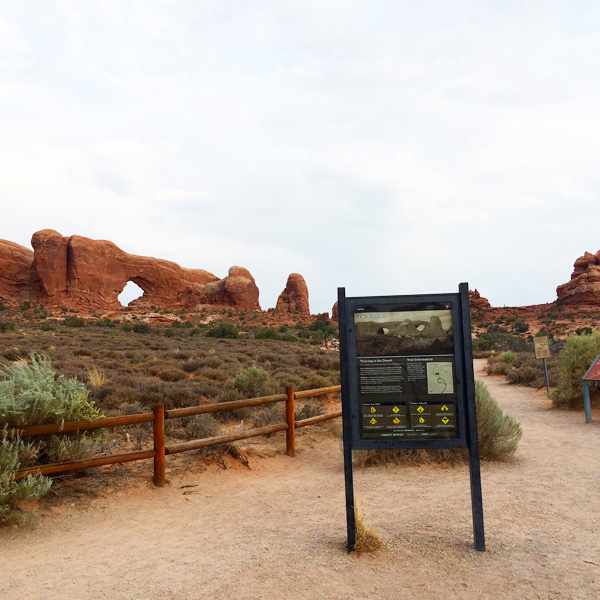 Where to Stay in Moab at Arches National Park
Moab is a busy little town with some good restaurants, a few souvenir shops and outdoor outfitters.  We stayed at the Holiday Inn Express Hotel & Suites Moab, which was the best Holiday Inn we've stayed at.  Located right down the street from the entrance the Arches National Park, the hotel was clean and comfortable, the staff was super-friendly and accommodating.  I didn't love the food at Holiday Inn Express, but I guess it's pretty standard continental breakfast-type fare.  There is a large, elaborate outdoor pool with handicap lift.