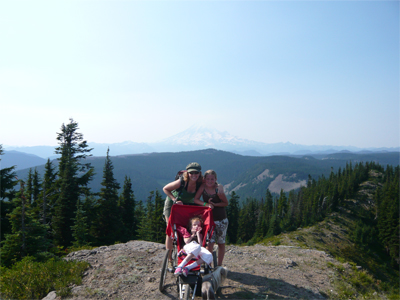 I wrote this article for TravelingMom.com.
We are an active family and love outdoors activities like hiking. My youngest daughter is handicapped, so it is my challenge to find trails that work for her. Often times ski resorts have level trails that provide great options for accessible hiking. This was our first visit to the White Pass ski area, located at the summit of US 12 – 12 miles southeast of Mount Rainier National Park so we weren't sure what to expect. What we found was a fairly accessible hike with fantastic views, and made some friends along the way. It was a fun way to spend the day.
First of all, let me qualify "fairly accessible." You can't bring a standard wheelchair on these trails – they are at best dirt and rocks, and include some steep hills. We used a modified jogging stroller and there were a couple of times that both my husband and I needed to help get her through an area. But in our case this was very doable; it's not a large ski resort, so it's not a long hike, and my daughter is light enough to lift her stroller when we need to. Read more.