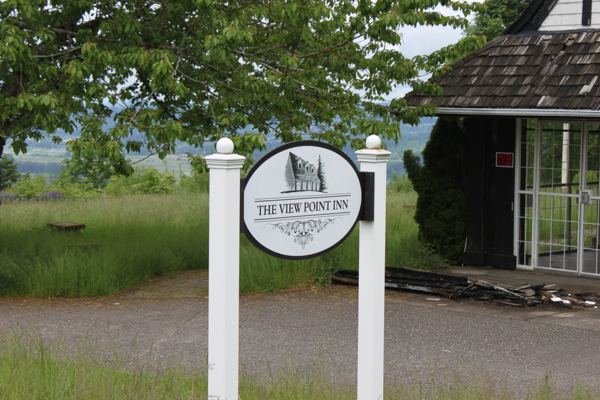 Twilight movie prom scene location
Back on the road, we were headed to the View Point Inn, the scene of Bella and Edward's prom. Unfortunately the View Point Inn had a fire last year, but the stunning views of the Columbia Gorge remain. I spoke to Geoff Thompson, owner of the Inn, who told me that they would finally start rebuilding this month, with plans to re-open in fall. It was so sad to see what remained, we look forward to visiting again when it's rebuilt.
About a mile or so before you get to the View Point Inn you pass a vista point on your left, from here you can see the View Point Inn in the distance and as well as a spectacular view of the Columbia Gorge. It's definitely worth the stop. From here we saw the Vista House at Crown Point, which just begged to be explored. So after visiting the View Point Inn we went on adventure looking for the Vista House, not a Twilight-themed stop, but worth it for the spectacular views, coffee and bathroom stop. From the View Point Inn you are only 12 miles or so from Multnomah Falls, you can see the falls behind Bella and Edward in one scene and there are more filming locations in that area. We have been to Multnomah Falls before, it's amazing! But since we'd been there before, I didn't include it on our itinerary this trip – we had a lot of territory to cover still!
40301 East Larch Mountain Rd.
Corbett, Oregon 97019