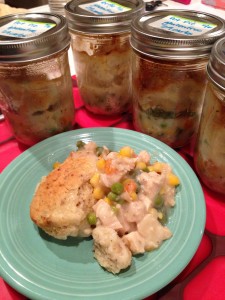 Who doesn't love comfort foods this time of year? Warm and filling, chicken pot pie is among my family's faves. Since my daughter was told she had juvenile diabetes in January I have been counting the carbs in our meals to determine her insulin needs, keeping things gluten free means I can have them, too. And I can't resist chicken pot pie. Baking these in individual portions makes them easy to pull out of the freezer for healthy, delicius chicken pot pie any time. I sent one off with my daughter last night – way better than fast food in a time-crunched evening.
Carbs: 29g per serving

Gluten-Free Individual Chicken Pot Pies
Chicken Filling:
1 tbl butter
1 12oz bag frozen vegetables
1 1/2 c cooked, cubed chicken
1 3/4 c chicken broth
1 tsp seasoned salt – I use a pinch of sea salt with "rotisserie herbs" blend
3/4 c milk
3 tbl cornstarch
Biscuit Topping:
3/4 c Pamela's gluten-free baking mix
pinch of sea salt
2 tbl butter, softened
1 egg
1/2 c milk
In a sauce pan melt the butter, then add the frozen vegetables, chicken, chicken broth and seasoned salt. Stir over medium heat until boiling. Stir cornstarch into the milk, then stir into hot filling. Continue to stir over low heat until boiling. Divide into 6 servings in individual containers (about 1 cup each). I use pint-sized glass canning jars.
Mix up the biscuit topping by cutting the butter into the baking mix, then add the egg. Add enough milk to form a sticky dough. Divide the dough into 6th and drop one severing onto the top of each filling mix.
Bake at 350 degrees for about 25 minutes, or until the biscuits are lightly browned and the filling is bubbling. When fully cooked, remove from the oven and set out to completely cool with the lid loosely on. Once cooled tighten the lid and refrigerate or freeze until use. Remember if you are using glass canning jars not to put them into a hot oven from the refrigerator or freezer and to make sure they are completely cooled before freezing – and that there is a gap so that there is room for the contents to expand in the freezer. That's why I use the pint-sized jars. Why glass jars? I had a six-pack in my cupboard from jam I never made this fall (sigh) – and I don't like reheating plastic, I worry about the chemicals leaching.
I've made these dairy-free as well, using chicken broth instead of milk in the filling and rice milk in the biscuits and it turned out great, of course the carb counts change with variation.
So, what's for dinner?
This recipe was adapted from Betty Crocker's Diabetes Coookbook.