San Diego Zoo Wheelchair Accessibility and Special Needs Tips: Accessible ways to enjoy the San Diego Zoo with a wheelchair, limited mobility or special needs
When making plans for our San Diego trip, I considered not going to the San Diego Zoo. Several moms with handicapped kids told me it was tough because there are so many hills. However, after talking to Accessible San Diego, I decided to give it a try, and I am so glad that I did. The San Diego Zoo turned out to be one of the highlights of our Southern California vacation.
Upon arrival at the San Diego Zoo, my 14 year old daughter had a list of exhibits she wanted to see, so she set off with my husband to explore. Veronica (my special needs kid) and I went on our own tour and had a great time. Our family met back up after a couple of hours, had a frozen lemon aid and shared our adventures. Of course, what visit would be complete without a trip to the gift shop for souvenirs.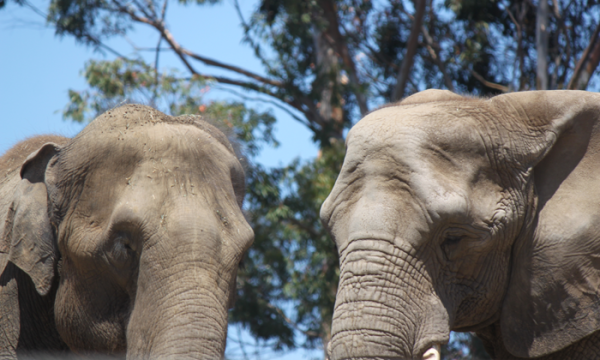 Tips for San Diego Zoo Wheelchair Accessibility and Special Needs:
Access Two for One
Great deal, you get in free as your disabled child's helper/attendant. If your child's disabilities are hidden, bring a doctor's note.
Get a Priority Pass
When you buy your ticket, let them know someone in your party needs mobility assistance and they will give you a priority pass, which gets you right on the next bus tour.
Take the Guided Bus Tour
This is especially great if you are in a wheelchair, my daughter and I loved it.  She got to experience the park from an open air bus with tour guide, and I didn't have to push her chair.  Win-win!   It's a 35 minute ride in an open-air double-decker bus that will take you through the main animal areas, where you'll see the exhibits, but also get an overview of the park. Then, if there's an area you wanted to spend more time in, you can return after the bus tour.
Use the Express Bus for Those with Limited Mobility
The Express Bus is NOT wheelchair accessible, but if you have limited mobility, the hop on/hop off Express Bus is the perfect way to see exhibits with a minimum of walking.
Ask for a Ride
If you do decide to walk the park and get to tired pushing the wheelchair, or you need a quick ride to the park entrance, for example, ask any zoo employee for a handicap pick up. Some one will come and pick your party up and get you where you need to go. Don't hesitate to ask if you need help, this option was offered to me and seemed like a fairly routine thing.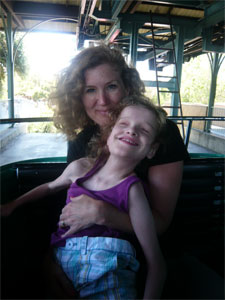 Enjoy the Skyfari® Aerial Tram
The Skyfari® aerial tram takes you over the tree tops for a bird's eye view of the park. This was my special needs kid's favorite thing to do at the zoo. The free moving cart and cool breeze in her face, she enjoyed every minute. If you have a wheelchair, go ahead and get in line with it, then when you load, they'll either keep the wheelchair there for your return (if you just want a round trip) or send it on the next tram car so you can get in and tour that side of the zoo for a while.
Pit Stop
If you are looking for a large changing area with a bench, go to the First Aid Station and they will provide a room for you.