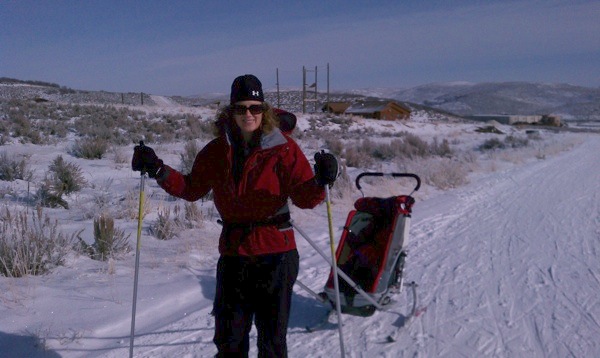 I've always wanted to cross country ski, it just looks so fun; sunshine, beautiful snowy trails. And a great workout. I've thought about ways to get our family out there, but wasn't sure how to make it happen. What would Veronica ride in? And there's this other little thing: my family snowboards and has never skied, I skied as a kid but it's clearly been a while. Plus I didn't think "learning on the job" would be a very good idea. Today we made it happen, and it was a blast!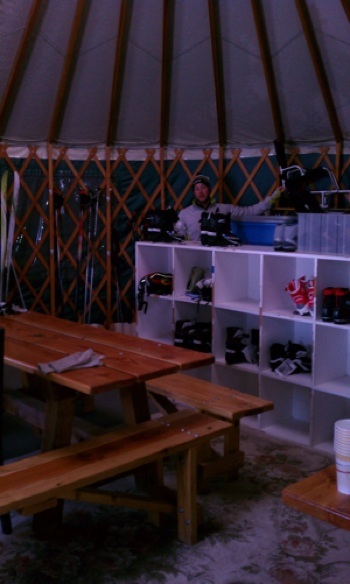 We met Evan at the National Ability Center (NAC) cross country ski yurt this morning and he geared us up. He had a Chariot Carrier CX1 with the cross country ski kit. Veronica actually fit in it perfectly, she sat with her knees up, this is how she sits the best anyway. Evan got us geared up and gave us some quick lessons on the basics of Nordic skiing. I wonder what he thought when we told him we'd never skied before. We went on a fairly flat route, our first lap together Evan took Veronica. Then Todd and I tried it out. It was actually easier going up the hills because the weight of the trailer gave you extra stability, going downhill was a little more challenging, but really not a big deal. I'm certainly no pro and will stay on really flat trails for now, but we all had so much fun, and V seemed to really like it – she fell asleep, so she must have been comfortable.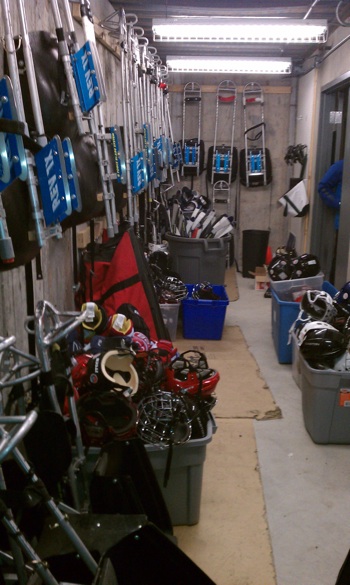 Next we went over to the ice rink next the the NAC, where they outfit people of all abilities for sled hockey. It's really incredible, and although we didn't set V up, just looking at all of the configurations of equipment I could see that we would have to try it next time. I was so excited as I thought of all of the kids who'd thought playing hockey, or any sport, would not be possible for them and how the NAC has done such a fantastic job of making these things possible. I took some great video I will be adding when I get home.
As we've experienced these different activities at the NAC I am so struck by the incredibly talented, knowledgeable and positive people that make up the NAC team, what a truly impressive organization. Wherever I take Veronica there are always more questions than answers. To a person, everyone that we worked with just got in, found answers and made it work – and they made it look easy.
After our morning, we grabbed some lunch and headed back to our hotel room. Everyone was pretty sleepy, so I snuck out and took a few runs on the mountain. It was fabulous! Sunshine, great snow, but all of this activity is starting to catch up with me. My legs started to feel like rubber, so when I got off the lift I went over to look at the map for the easiest and quickest way back to the resort base. There was a gentleman that worked for Park City Mountain Resort next to the map to answer questions from people just like me – he even had a pointer to show me the trails to take to get back. I hopped on my board and made my way back to base.
With my family rested and ready to go, I quickly changed and we were out the door – off to the Alpine Coaster. This 10 minute rides takes you and a partner up a long, long hill, then lets you go at your own speed, winding through the trees down the mountain. I went with Syd and Todd took Veronica. I thought Todd and V would take it slow, but they went full speed, no breaking – and check out the smile. I think it was a hit!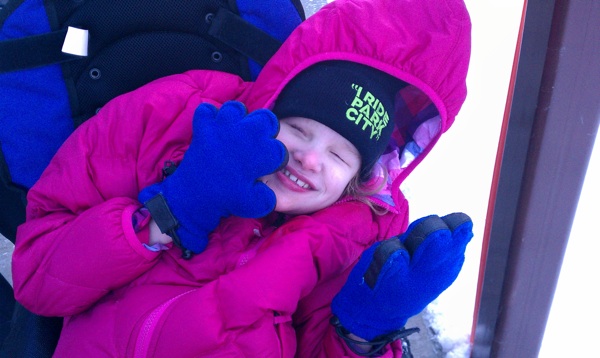 One thing I had on our Park City Agenda was a pair of cowboy boots at Burns Cowboy Shop, and tonight was the night. Burns has a huge selection of Lucchese cowboy boots in every color and style, most them are designs made specifically for Burns. They don't just have boots, they also have beautiful leather goods and accessories, but honestly I was pretty focused on the boots. I picked out my favorites and started trying them on. Once I pulled on this pair I fell in love and took out my credit card. Mission completed.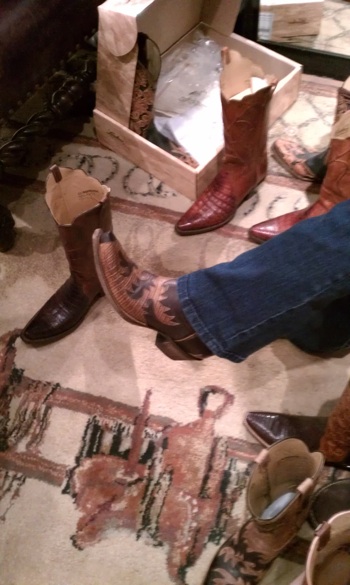 Our plan was to go tubing at Gorgoza Park – the coolest tubing runs with no walking up hill, there's a systems of conveyors that get you up to the top. We never made quite made it, everyone was tired, but happy as we went back to our room for the night. We will sleep well!
Disclaimer: Park City Mountain Resort provided me and my family with free ski passes and other compensation as part of its invitation for me to participate as a Snowmama. The opinions and experiences are my own.