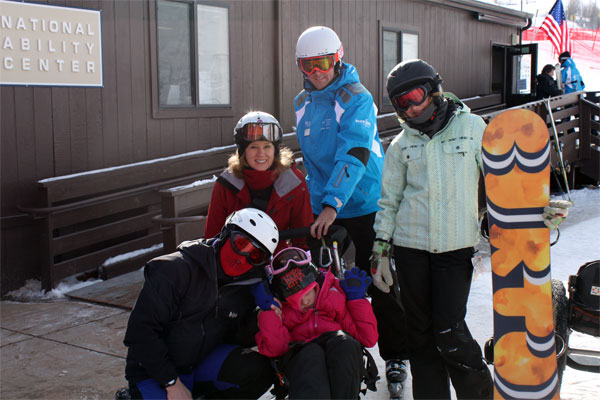 Our last day started out fast and furious; we got everyone packed up and checked out, had breakfast, then raced over to Veronica's snowboarding lesson at 9:00 am. Veronica wasn't really into all of the rushing, plus she was in her snow gear while we were packing the car, so she got too hot. It took her some time to transition, but did enjoy her last day on the slopes. The conditions were beautiful – sunny, blue skies and well-groomed runs. I savored every minute of our day. I rode behind everyone, and watched them; Todd videoing Veronica's jumps and turns, then turning to video Syd practicing riding switch and hitting side wall jumps. Time felt like it stopped for a few minutes and I was overwhelmed with joy and gratitude as my whole family snowboarded down the mountain together.

Our trip home was a little eventful – at the Salt Lake City airport Veronica tested positive for explosive residue in the TSA security check. Are you kidding me? The women that worked with us were very friendly, very sweet to Veronica and careful, just doing their job, but that is a little insane. I can't imagine what would have set off that alarm. Anyway, Veronica and I had to go back to a small, private room and I got a full pat down and was tested for the explosives residue. Everything tested fine, we got to leave, no big deal, just a little comical – and sad that it's come to this, that there really are people out there that would sacrifice everything to hurt others.

I really wanted Veronica to have a movie of her trip to share at school, she was so excited, but being non-verbal she can't tell her own story. We have HOURS of video – trying to get through them all to create a video quickly would be impossible, so I grabbed a few and pulled some photos into iMovie, did a voice over for Veronica and sent it to school with her today. She was all smiles taking it with her to show her friends. Thanks Park City Mountain Resort and National Ability Center for such a fabulous, memorable vacation.


This is the first cut – a minute longer of skiing clips in the middle…

Disclaimer: Park City Mountain Resort provided me and my family with free ski passes and other compensation as part of its invitation for me to participate as a Snowmama. The opinions and experiences are my own.