What does V want for her birthday or Christmas? I don't know about you, but I kind of dread that question. V loves a celebration, and is so excited to get presents, but it's tough finding things that really resonate with her or that she's able to use. It becomes a quest for me to have good ideas when that question is asked. Every year I seems like I hit on at least one thing that really makes her smile. I call that winning.
Here are some of my gift ideas for children with special needs – I'd really love to hear yours!
I saw the Play Impossible Game Ball at a technology show recently, and where other parents saw "fun" I also saw "therapy." The Play Impossible Game Ball is a small, durable ball that integrates technology into play. Sure you can throw it and play as you would a standard inflatable ball, but use the app and there's a whole new level of play, including voice activated challenges that help your child with hand-eye coordination, counting, dexterity, science and more. Your child will be having so much fun, they won't even know it's therapeutic. And isn't that half the battle? I saw it on Amazon Prime for $99 with 5-star reviews, same with Target.
For those that crave something hold and fidget with to help focus or reduce anxiety, this toy features 6 sides for you to rub, roll, spin, press, control and switch.
This first gift idea was recommended to me by several people. Small World Toys Neurosmith – Music Blocks
combines musical, visual and tactile elements, which is perfect for my child with special needs. Each block side plays a unique measure of music, with more than one million possible tunes. As the child arranges the electronic blocks they are composing their own original songs. This music toy sparks endless exploration, while teaching colors, shapes, sequence, and cause and effect. Small World Toys Neurosmith – Music Blocks
includes jazz, African rhythms, and Mozart selections.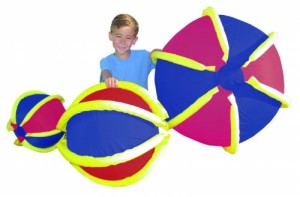 The unique, patented ribs on the Rib-it-Ball make it easy to grab even for the smallest and weakest of hands. Children will have hours of fun without frustration while improving balance and motor skills. The PlayAbility Toys Rib-It-Balls
come with a variety of options. It is available in several sizes: 14 inches, 18 inches, and 30 inches; and can be purchased with or without the crinkle material in the ribs.
If your child enjoys books, movies  and apps, they'll love the Amazon Fire Kids Edition Kindle
.  With access to over 15,000 kid-friendly titles available through 1 Year of Amazon FreeTime Unlimited (requires Amazon subscription starting at $2.99/month after that), your child will never get bored.  It's a real computer, with a quad-core processor for great performance, a vivid HD display, front and rear-facing cameras, and Dolby Audio. Parental controls let you create personalized profiles, set educational goals and screen time limits, and choose age-appropriate content in Amazon FreeTime.  Add a microSD card for up to 256 GB of additional storage.  Small and lightweight, it's wrapped in a super shock-proof case that's easy for fingers to hold on to.  Plus a 2-year worry-free guarantee – if it gets broken, return it and they'll replace it for free. No questions asked.  If everything came with that kind of guarantee…  And the best news? It's super affordable – I saw some great specials on it for Black Friday – Cyber Monday.
My daughter has this watch, and it's helped her understand time and her daily schedule.  She can easily push the green button and it says the time, "It is 7:00 pm."  It has an alarm and an hourly audio time report that you can set up or disable.  It's not glamorous, but it is functional, and gives my daughter one more way to access her environment. She's started to push the button on the Talking Wrist Watch
twice when she can't access her communication device to let us know that it's time for something. There are similar devices that are in a key chain format as an option.
Melissa and Doug makes a wide range of learning puzzles, some with textures and tactile enhancements.  They have large wooden pieces that are easier to handle, and sturdy for a lot of use.  My daughter loved this Latches Board
when she was younger.  It has 6 different locks and latches to unlock and lock.  This puzzle helps with dexterity/motor skills, and is fun for children to explore and builds confidence as their skills improve.  Because has a tactile element to it, it works well for kids with low vision or who are blind.
Melissa & Doug make a wide range of high quality learning toys. I love these kitchen and food prep toys! Pretend play helps kids in so many ways, including story telling, fine motor, life skills and more. See their line on Amazon.
The STRIDER balance bike is a great concept. A bike without pedals, it promotes a natural approach to balance, allowing the rider's feet to remain safely touching the ground. The child lifts his or her feet gradually on their own terms, finding success and confidence, not to mention better balancing, steering and coordination skills. It's physical therapy that's fun!  STRIDER makes balance bikes for children with special needs in sizes up to adult.

Mosaic manipulative puzzles with large pieces that stay put on a magnetic board.  Great for hand-eye coordination, and frustration-free creativity. Magnetic Mosaics come in a wide range of design options.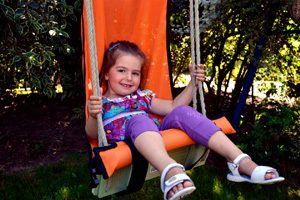 Add the Thea Swing to an existing swing to add additional support for children with special needs.  Genius.
Mom Tarra recommends the BOSU Balance Trainer
explaining, "We have the BOSU exercise half-ball that he loves to climb over and practice balancing on."
Mom Tarra also recommends the Gonge Riverstones and Gonge Balance Planks, saying, "We also have the Gonge River Stones and River Balance beam pieces. They've been used constantly for a few years now." Looks like fun – thanks for sharing Tarra!
Mom Valerie recommends Water Beads, saying, "Water beads are a great sensory item for our littles and the smaller packaged ones are great stocking stuffers."  Great suggestion!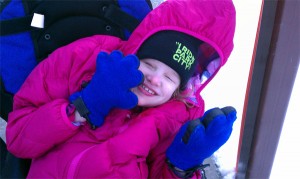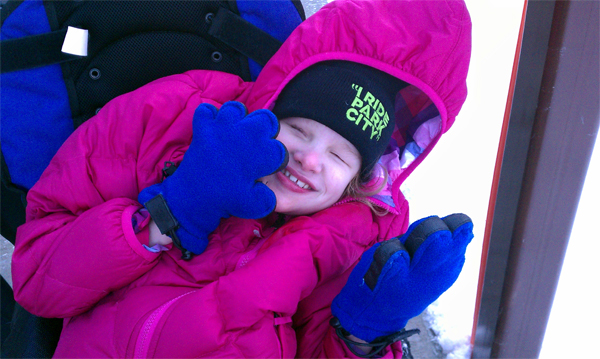 The Gift of an Experience
I think the gift my child with special needs enjoys the most is the gift of an experience.  For her 13th birthday we went on a road trip to visit movie filming locations for Twilight.  I made a video slideshow for her iPhone and she gets so excited sharing that experience with people. We all had a great time, we talk about that trip often.
Maybe it's tickets to a play or concert, a special day out or a local road trip. Or maybe it's a family vacation. Whatever it looks like, the gift of an experience is something that's always unforgettable.
V also loves audiobooks. She has one of my old iPhones on a lanyard, it's full of audiobooks and her fave music. She gets so excited when we find new audiobooks with a good story and fun narration.
Reader Shobha from Just Go Places added a great resource, "Our OT loves the Pocket Full of Therapy store online – she actually gets her stuff shipped from them in New Jersey to the UK because you can't get a lot of their stuff here." Thanks for sharing!
Please share any gift ideas for special needs children that you have!