I've been interested in bone conduction headphones for a while; I bought my first pair about 7 years ago, and the technology was definitely not there yet. Recently I was provided the Aftershokz Trekz Titanium Bone Conduction Wireless Headphones to review, and I was excited to see how far the technology had come.
What are bone conduction wireless headphones?
The main benefit of bone conduction wireless headphones is that they allow you to receive audio waves to the inner ears through the skull, bypassing the eardrums completely. They don't cover your ears, but instead, let you hear your music and ambient noise simultaneously. You can be present in your environment. The claim is that this makes them safer, so as a pedestrian, driver, runner, or cyclist you can hear traffic and the noise around you, while still hearing your music or phone conversation. I was also interested in how they worked for my daughter who's blind, as I don't like her feeling isolated when she listens to audiobook stories. I have heard that they work better for those with hearing disabilities, although I have no way of testing this for sure.
So, what did I think of the Aftershokz Trekz Titanium wireless headphones?
The technology has come a long way. Bone conduction is a different way of listening, simultaneously being able to hear the sound around you and your music, so it takes some initial getting used to. The fact that they don't cover your ears makes the fit different. But the sweet spot is easy to find, and then they are comfortable and stay put even through active workouts. They have a rubberized, low profile finish that helps with that fit and also makes them sweat-proof. Although the bass isn't as deep as with traditional wireless headphones, the sound in the Aftershokz Trekz Titanium bone conduction wireless earphones is good quality, having depth and clarity.
Featuring OpenFit™, they promise uncompromised situational awareness and extended comfort. Although there is a tiny bit of sound "leakage," it's only really noticeable when it's very quiet and people are close.  You can tune in to your music or a call without tuning out the world around you, allowing you to stay safe and alert as you move through your day.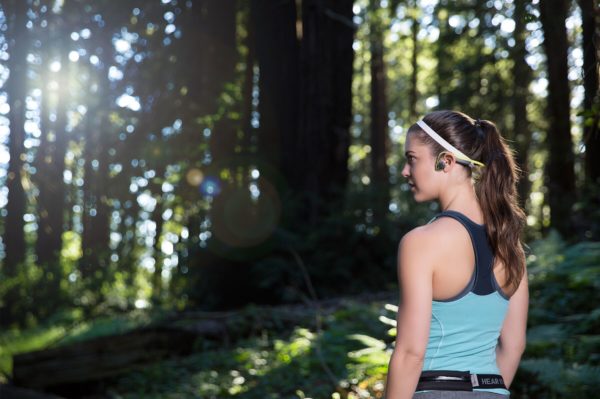 The Aftershokz Trekz Titanium Bone Conduction Wireless Headphones are especially great for active sports. I wore them running and at the athletic club through long workouts and they quickly became my preferred headphones. They worked well while for phone calls while I was driving (this may not be legal where you live). The sound on phone calls was clear and impressive. The charge seems to last about 6 hours and they connect easily to bluetooth.
MSRP $129.99 – I found them on Amazon for $120.
Disclaimer: I was provided the Aftershokz Trekz Titanium Bone Conduction Wireless Headphones for review, the opinions and experiences are my own. This post contains Amazon affiliate links, so if you're interested you can tell them I sent you. 😉