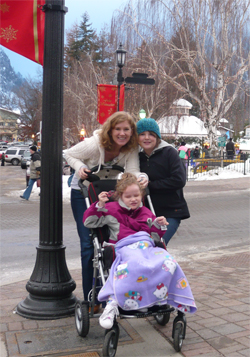 When my daughter outgrew her off-the-shelf stroller, I needed to find a replacement, but soon found that there was very little that met my criteria. All I wanted was something that was durable, could do a little off-road travel, provided good positioning and support, and, the deal breaker, it had to fit in the back of my VW bug. Come on, how difficult could it be to find something like that?
After months of online searching and demoing pushchairs, I happened across the Thomashilfen Swifty. It looked good online, but it was only after evaluating it for a week that I was sure it was perfect for us. We collaborated on the fit with our physical therapist; Veronica's varying spasticity and severe scoliosis makes things a bit challenging. We ordered the Swifty with the abduction block, 2-point padded hip belt, butterfly chest harness, lateral trunk supports, and cargo basket. I later bought the removable tray – I thought I'd use it a lot, but have really only used it couple of times – sooo not worth the money.
There are a many, many miles on those Swifty tires, but with the exception of a couple of small rips in the fabric, it's none the worse for wear. I'm sad to say now my daughter has outgrown this pushchair so my search starts again. This time my list also includes a cup-holder!
Thomashilfen Swifty base price is MSRP $2,015.00, which is highway robbery. A local organization provided a donation for Veronica and we were able to purchase it for a discounted price since they paid cash. Don't get me started on how medical equipment is overpriced.