When I find fun solutions that work well for special needs kids, I can't wait to share them.   This is one of those times.  I'm so excited!
The STRIDER balance bike is an interesting concept. A bike without pedals, it promotes a natural approach to balance, allowing the rider's feet to remain safely touching the ground. The child lifts his or her feet gradually on their own terms, finding success and confidence, not to mention better balancing, steering and coordination skills. It's physical therapy that's fun!

STRIDER balance bikes for special needs come in sizes that can accommodate everyone from toddlers to adults. Regardless of your child's age, they can ride their own bike alongside their peers. How cool is that?
I spoke to Amy, aunt to Ali, a child with 1p36 Deletion Syndrome. Amy said, "The STRIDER balance bike has definitely helped my niece develop more strength and balance overall. But I think the thing I appreciate most is seeing my niece outside playing with all of the kids in the neighborhood. I'm so grateful to STRIDER for giving her an opportunity to play like a normal kid." Ali says she likes her STRIDER balance bike because she can go fast.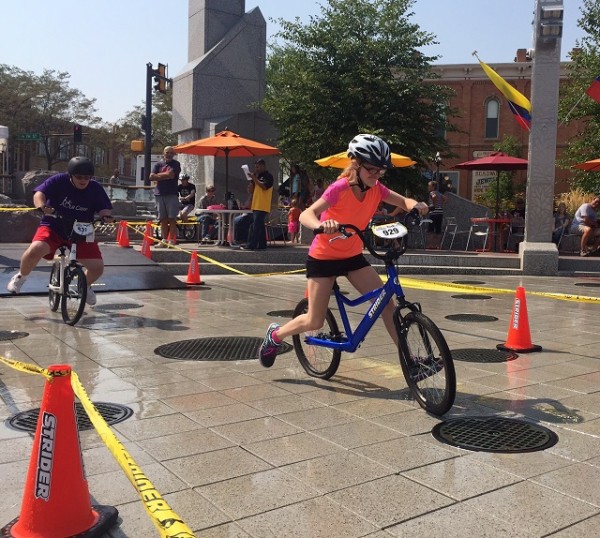 I also heard about a school district that purchased 13, (yes 13!) STRIDER Balance Bike
for their special education program. Here's what their Special Education Teacher said about that program:
"I currently have 13 bikes for my classroom and a wide variety of students use them. Students with physical impairments, BLIND students, kids with Down Syndrome, kids with autism; basically anyone who can walk on their own (and even several who are a little shaky). We use them for recreation, social skills, community skills, physical therapy, adaptive PE, language development, and behavior interventions (as well as a whole bunch of other ways I'm unable to think of right now)."         -Amy Heuston, Special Education Teacher/Special Olympics Coach
Now that sounds like a fun class! Here are more testimonials and more about STRIDER bikes for special needs.  I really appreciate STRIDER's product and commitment to special needs programs through programs like Special Olympics.
STRIDER Balance Bikes
come in a variety of colors and range in price from $119-$289 and would be super awesome under the tree this Christmas.