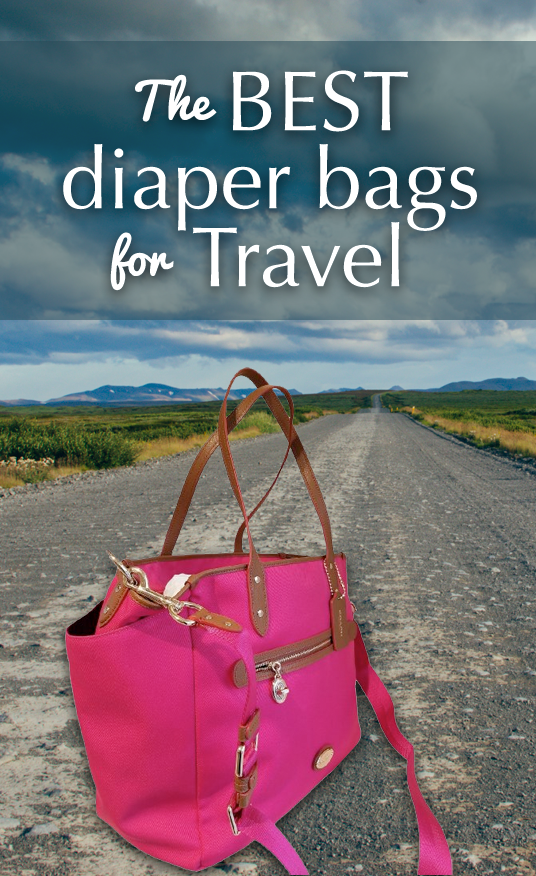 As we gear up for our next trip, I'm looking at diaper bags, searching for a new tote to contain my daughter's essentials. We need a bag that will wrangle diapers, medications, medical supplies, a change of clothes, snacks and some entertainment for the trip. Ideally this diaper bag would have some pockets and pouches for organization, and would be easy to carry on and stow on flights. Oh, and I'd like it to be durable and look good. Basically I'm looking for a diaper bag on steroids. Am I asking for too much? I turned to some travel experts, who also happen to be moms, for some recommendations. Here are their solutions.
Travel Experts Recommend the Best Diaper Bags for Travel
Petunia Picklebottom Diaper Bag
Kathy Penney from penneylane.com says, "The Petunia Picklebottom diaper bags have amazing storage and are so organized. They have great grown up designs too."
Hilarye Fuller from dottingthemap.com "I'm going to second the petunia pickle bottom diaper bag. I've had mine for four years and it's gone through three kids, countless airplane rides and car rides. We like the boxy backpack
. The price may seem steep but for how long it's lasted us and how it's still in such good condition, it's totally worth it."
You can find Petunia Picklebottom on Amazon
or www.PetuniaPicklebottom.com
---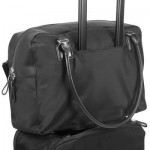 Tumi Tote
Robin Hutson from luxerecess.com says, "My favorite are the Tumi bags because they have side zippers that, when undone, allow you to slide the bag down the handle of a wheeled suitcase. It is easy to get TUMI at outlet stores for much less, and you can even call one and order over the phone."  You can read her full review on the Tumi bags here.
You can find the Tumi carry all on Amazon
or at www.Tumi.com for a full line and links to Tumi outlet locations.
---
Liz Wright from travelogged.com says, "Check out Le Sportsac Ryan baby bag — but get the shiny black so the outside is water resistant. Love how lightweight it is! I'd say it would be almost impossible to find a lighter weight bag that's comparable to the Le Sportsac Ryan."
The Le Sportsac Ryan Baby Bag can be found on Amazon
or www.LeSportsac.com
---
Becky Mladic-Morales from kidworldcitizen.com says, "We use a big(ish) backpack. Not with a frame, but a nice sized one that can fit everything. It's an Osprey but there are many that are similar."
---
Kirsten Maxwell from kidsareatrip.com "I have a cinda b Super Tote and I love it. Lots of interior pockets (6 I think?), zips closed, fits under airplane seat, washable, and has a sleeve to fit over handle of rolling luggage. I'm definitely a fan." You can read her cinda b Super Tote review here.
cinda b Super Totes can be found on Amazon
and www.cindab.com
---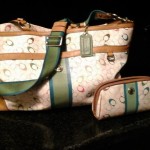 Coach XL Diaper/Tote/Mutlipurpose Bag
Jenny Meer Hodges from metamorfit.org says, "I have a Coach XL Diaper/Tote/Multipurpose bag. It has so many interior and exterior pockets, it's insane!!"
I couldn't find her exact bag, but I found some super cute Coach diaper bags on Amazon.com
. I think this might be my new favorite.
---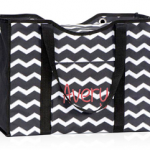 All Day Organizing Tote from Thirty-one
Jody Halsted from familyrambling.com says, "I use the All Day Organizing Tote from Thirty-one quite often for travel. Sturdy, roomy, fits under seats…"
You can buy them from Jody's Thirty-one store.
---
My friend Theresa who travels with her child that has autism says, "Love this LL Bean canvas zip bag with her name on it. Fits everything we need, including her iPad. It doesn't have a pocket on the inside, wish it did. It's a heavy duty canvas bag. We have had this one for about 2 years and it looks just as good as the day we got it. Its been all over the place including Mexico. I have more in other sizes that I use for all kinds of things and have washed some of them in cold water and line dry and have had no problems."
The LL Bean Tote can be found on Amazon and at LL.com.
---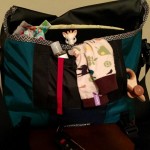 Timbuk2 Stork
Amy Whitley from pitstopsforkids.com says,"The Timbuk2 Stork is the best diaper bag we've seen in a long time. The Timbuk2 Stork looks and acts like a rugged messenger bag, but has everything families with babies need while on the go." Read her full review.
You can find the Timbuk2 Stork on Amazon or at www.timbuk2.com.
Did I miss one? What's your fave diaper bag / travel bag?