A quick road trip to the coast last weekend reminded me how much I appreciate the E-Z-ON Modified Vest for Medical Transport.
Don't let the words "Medical Transport" in the product name confuse you, it's basically a seatbelt for lying down in the car. It allows your child to safely and legally lay on the seat while riding in the car.
Several months ago E-Z-ON provided the E-Z-ON Vest for my review, and honestly it's been a game-changer in terms of my daughter's ability to get out and explore, greatly enhancing her quality of life. It's also given me the confidence that we can go long distances again because I now have options for her seating. If she is in pain, is tired, or needs to stretch out to breathe better, she can lay down on the seat and ride safely and comfortably.
How does the E-Z-ON Vest seatbelt work for laying down in the car?
The E-Z-ON Vest is essentially a harness that is secured by your car's seatbelt while your child is laying down in the car. At first it looks a little confusing, but it's really just a 5-point harness made of seatbelt strapping and buckles. Once your child is snugly fit in the E-Z-ON Vest, lay the child on the seat and thread two rear vehicle seat belts through the sides of the vest and the leg belt. It's a great option if your child has had surgery, has special needs and can't always sit up, or simply would like to lay down for a nap on a road trip.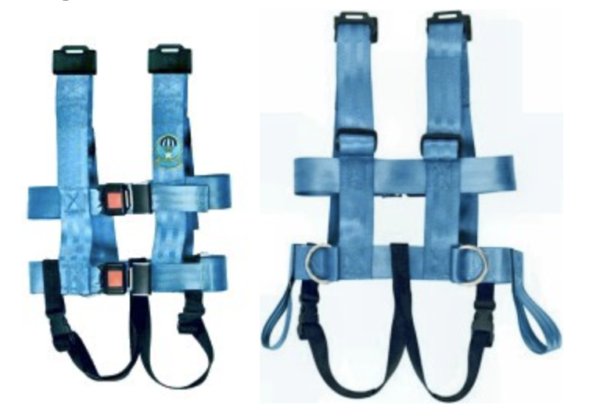 Last weekend we enjoyed a great day at the beach. When we loaded up for the 4 hour drive home, my daughter was happy and relaxed, but just couldn't get comfortable in her car seat. I knew she wanted to take a nap on the way home. So I buckled her in the E-Z-ON Vest and got her comfortable with a pillow and blanket. She responded with a big smile and fell fast asleep for the entire ride home.
I really appreciate the peace of mind that the E-Z-ON Vest provides. It gives me safe options for my kiddo when we travel, or just go across town for a doctor appointment.
In addition to the E-Z-ON Modified Vests for Medical Transport, E-Z-ON makes adjustable vests for more secure upright sitting in the family car and on school buses. Go here for E-Z-ON specifications and options.
Where can I get an E-Z-ON Vest seatbelt for laying down in the car?
The E-Z-ON Vest is nothing fancy, but it works and meets safety regulations.  I was provided the vest for review purposes, but it was recommended to me by our physical therapist, and may be covered by your insurance company or Medicaid depending on your child's needs and your coverage.  However, this is not a standard item, so you'll want to do some homework to make your case, and may need to file an appeal. I'm in the process of writing up some pointers on how to approach a DME (Durable Medical Equipment) request, check back later this week.
You can purchase the E-Z-ON vests on Amazon, or through distributors as listed on their website.
Disclaimer:  The E-Z-ON Modified Vest for Medical Transport seatbelt for laying down in the car was provided for review purposes, experiences are my own.