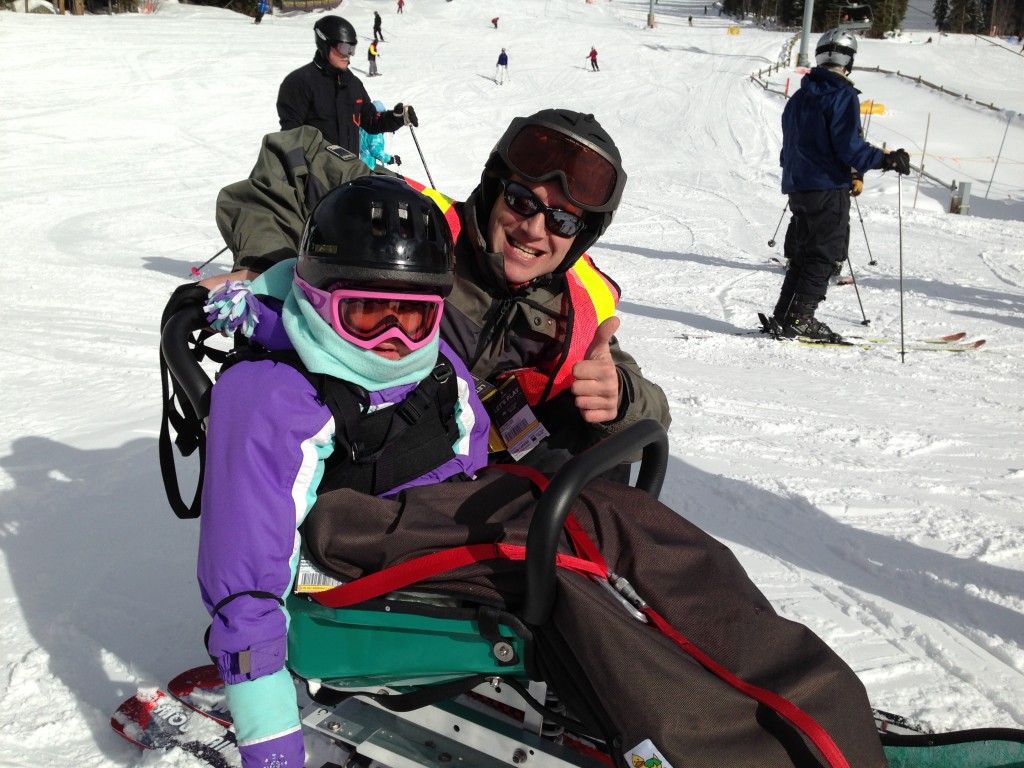 Meet CJ, skiing rock star – could she be any cuter? CJ has been skiing at Sun Peaks Resort in British Columbia for 4 years, so she's definitely a pro – she even has her own sweet ride! I had the privilege of skiing with her for a while and meeting her lovely family – it was a highlight of my trip. Her mom writes a special needs blog and has a great perspective.
Adaptive Sports at Sun Peaks (ASSP) is a newer program, their volunteers have been providing adaptive ski opportunities at Sun Peaks Resort since 2008. I spent a morning snowboarding with Sharon Tremblay, President of Adaptive Sports at Sun Peaks, and she shared more about the program along the way. The first thing I found out is that Sharon likes moguls. I do not. Thankfully she went easy on me and took me on some gentler runs. Here are some other things I learned:
Safety comes first at ASSP:
No risks are taken, ASSP realizes the fragile nature of their participants and makes that their foremost consideration. All instructors are required to have a CADS Level 1 certification at minimum and ongoing training is encouraged. Assistants work with the instructors to help load and unload from the ski lift, and ski wide turns behind the instructor to provide a safety barrier between the adaptive skier and others on the mountain. Sun Peaks Resort has several low-traffic, wide and gentle runs that are frequently used by ASSP to ensure maximum safety. All equipment is thoroughly checked on a regular basis and ongoing training is provided for lifties to ensure best safety practices for getting on and off the lifts.
Lesson goals are determined by the student:
Everyone has a different reason for being out on the mountain, and it is ASSP's perspective that those reasons should guide their interaction with the participant. For some people, like my daughter, it's all about the ride and participating with our family. The instructor acts as my daughter's legs, skiing her down the mountain with us. For others it's about learning a new skill and progressing to become more and more independent; specialized equipment allows them to start out on the magic carpet or platter. Others want to reclaim a passion held prior to an accident. The reasons are as different as the individuals, and ASSP strives to get to know the individual, their goals and develop a plan to achieve those goals.
ASSP is a group of individuals with a passion
Sharon didn't have to tell me this, I witnessed it. Throughout my stay at Sun Peaks I watched other volunteers and instructors and saw the enthusiasm that they had for their work on the mountain. Making skiing available for everyone was a passion that they were excited to share. I wish I had been able to bring my V with me, she would have loved making all of these new friends.
One more thing – Sun Peaks Resort is ski in ski out and very accessible. Step outside your hotel and you are in the village and at the foot of the mountain. Doesn't get any better than that!
If you would like to get involved with Adaptive Sports at Sun Peaks, you can contact them through their web site or to set up lessons contact Sun Peaks Resort.
www.HelloBC.com
www.SkiItToBelieveIt.com
Disclaimer: Sun Peaks Resort provided the stay for my review, the experience and opinions are my own.