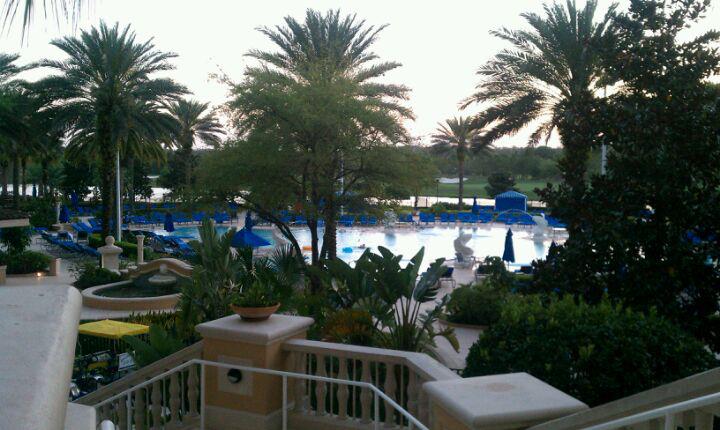 Recently I had an opportunity to take the Disney Fantasy Preview Cruise with TravelingMom.com, and since I was flying from one corner of the country to the other I thought I'd make the most of my stay and go a couple of days early. My friend Kim-Marie and I made some plans for big adventures in Orlando – this is what happens when I get a chance to get out of the house on my own. I was looking forward to full nights of sleep and exploring things to do in Orlando outside of the theme parks. VisitOrlando set us up with some wild adventures and a stay at The Ritz-Carlton Orlando, Grande Lakes – we were ready to go. My husband and mom are awesome, they took care of things at home so that I could have this rare time away.
The more Kim-Marie and I talked about adventures in Orlando, the more daring our ideas became. What started out with an idea to try indoor simulated skydiving turned into actual hang gliding. By the time plans we made, in addition to hang gliding, we were set to race Nascar like Ricky Bobby and take an air tour where you actually got to fly the plane. There was safety in numbers, somehow these seemed completely possible and a total blast with my good friend.
And then I got a phone call a week before the trip. Kim-Marie had a gallbladder attack and ended up having emergency surgery. She was still coming to Orlando, but wouldn't be able do these activities with me – I was on my own. My first concern was for my friend, I just wanted her to be OK and was excited to spend some time with her, even if it was just relaxing by the pool. But then I realized I was literally flying solo on these activities, and not sure I had the nerve to follow through. Suddenly these things seemed more scary than fun.
Finally the day had come and it was time to head to Orlando. After a LONG flight, I picked up my rental car and made my way to the The Ritz-Carlton Grande Lakes, just 10 minutes away. I was so tired and grimy from the flight that I couldn't fully appreciate the amenities and luxury of the Ritz until I had a shower and walked on the balcony overlooking the property. It was gorgeous! I breathed in and filled my lungs with the tropically scented air and just relaxed. Finally.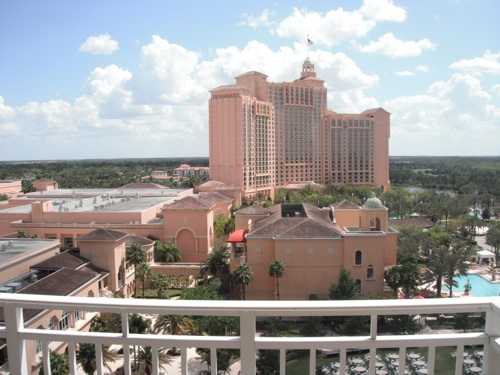 But what to do now? I could just climb in that big comfy bed and sleep for 12 hours, that sounded great! A rare luxury for any mom, especially one with a special needs kid. I honestly could have spent the next two days in my beautiful room or by the pool, relaxing by myself for the first time in 12 years. But the more I thought about it, the more I realized it was good for me to get out. For almost half of the last year – over 5 months – I wasn't hardly able to leave the house. Veronica was medically fragile and in a lot of pain, with no certain prognosis, and I battled with a chronic disease flared up from stress. I decided it was time to push myself to get out and take on new, fun things. So I got dressed up and explored the grounds of The Ritz-Carlton Grande Lakes; the pool, trails, restaurants. I felt myself relax like I hadn't in such a long time. It felt so good. I went back to my room for a fantastic, incredible, full night of sleep.
The next morning I went for a run/walk around The Ritz and JW Marriott Grande Lakes property to explore a bit, then drove to the airport and picked Kim-Marie up. We came back for a yummy brunch on the veranda of the Ritz at the Vineyard Grill. We were so hungry and everything looked so good – AND they had gluten-free options for anything I wanted. Sitting in the warm tropical air catching up with my good friend was heaven.
The Adventures Begin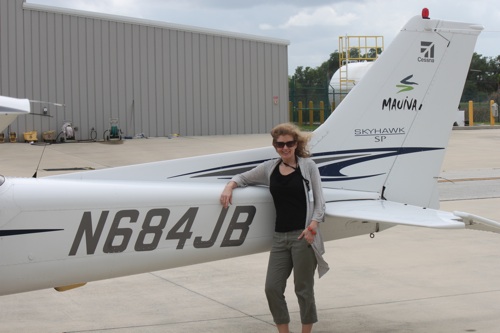 After brunch it was time to head out for my first adventure – a Mauiva Air Tour of Orlando. I've been in a small plane before, but it's been years. I wasn't sure I was up for it. It was windy and I was thinking about how much I would have enjoyed resting by the pool. But once we got off the ground I was hooked. I loved seeing the theme parks from a bird's eye view; watching the orca at SeaWorld, seeing the masses of people at Harry Potter Universal. Part way through the flight it was my turn to try flying the plane. OK, that was a trip. I was pretty nervous about it, knowing that I could send the plane plummeting freaked me out a bit. I did it, but I'm probably not meant to be a pilot. But never say never, right? Read about my full experience and see photos in my TraveingMom.com article.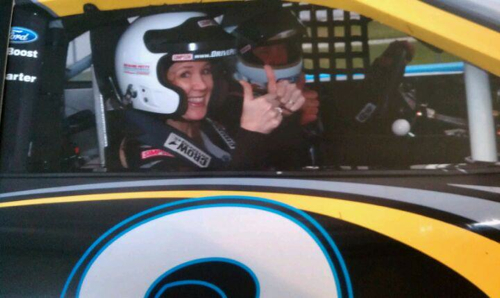 My day wasn't over yet, next up, Nascar ride along at Richard Petty Driving. I arrived at the race track, got suited up and went for a 3-lap ride with a professional driver at speeds around 130mph – just slightly faster than I drive carpool. Your kids would love this – I suggest parents try the driving experience, that's what I thought I was signed up for. (I'm working on a full review, coming tomorrow.)
After an exciting day I headed back to the Ritz where KM and I ordered room service and watched movies. A hot shower and restful night of sleep – I was feeling really spoiled.
Seriously, I'm Really Going to Do That? Am I crazy? Maybe.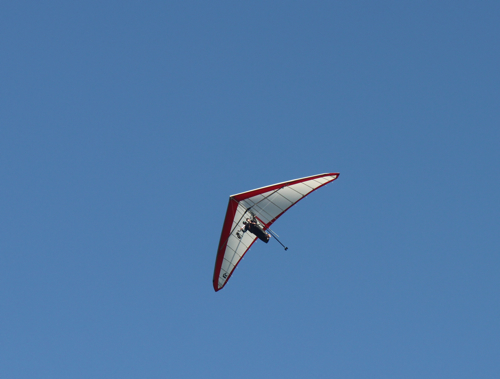 The next day we had hang gliding scheduled. This seemed like a good idea at the time, now I was wondering if I was insane. My alarm clock didn't go off, so I slept in a little late – maybe this was God's way of telling me I shouldn't go? I called Malcolm at Wallaby Ranch to see if I could still hang glide, or if it was too late and he didn't answer. Yep, now I'm sure of it, God was telling me not to go. Then Malcolm called me back. He said conditions were perfect, but not for long, to get out there if I wanted to hang glide today. Thinking about several reasons why I couldn't or shouldn't do this, I got dressed and was on my way. I was going. Wallaby Ranch has been doing this a long time and has a stellar safety rating, so I knew I was in good hands, but would I freak out once I got in the air? I guess that wouldn't be an option. As it turned out it was an AMAZING experience. So liberating. Read about my full experience on TravelingMom.com – including video. After my flight I spent some time hanging out with long time hang gliding enthusiasts; I loved their stories and life experiences. What a wonderful group of people, I could have stayed there all day.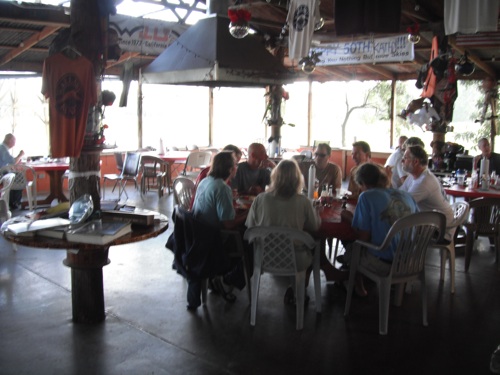 But my time was up and I was off to my next adventure – Spa experience at the Ritz Grande Lakes with my TravelingMom.com friends. Kind of a contrast to my morning! I got back and enjoyed a mani pedi and delicious foods and healthy smoothies, catching up with a group of amazing travel friends, relaxing. Meanwhile, we had an opportunity to hear more about the wonderful spa treatments at The Ritz Spa, and heard from the bee keeper – yes bee keeper. It turns out The Ritz and JW Marriott Grande Lakes have honey bee hives that they manage on property. The honey is used in signature dishes in their world-class restaurants, as well as in some of their spa treatments. My friend wrote a great article about this for TravelingMom.com. I'll be posting more details of my own tomorrow.
The end of the spa experience marked the end of my stay at the Ritz and my solo adventures. Next stop – Disney Fantasy cruise! I left this phase of my trip with a new sense of empowerment and finally something to talk about other than doctors, therapies, and medical equipment. I felt like the real me was finally emerging again – it had been so long.
Disclaimer: These experiences were provided to me to review at the invitation of VisitOrlando, the opinions are my own.