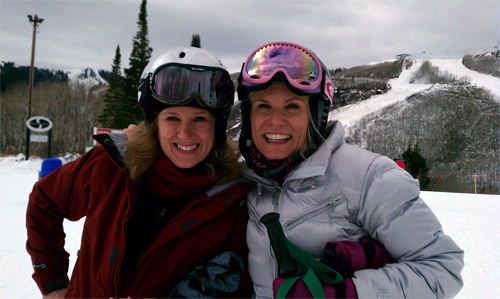 This weekend I was shopping for cold weather gear for V's big adaptive-skiing (aka snowboarding) trip to Park City next month, and it really started to hit me how much this opportunity has already meant to our family.  Snowboarding and snow sports in general has always been a passion of ours, but we've never been sure how to get our whole family out there.  Veronica gets so cold –  how would we set up her for all of this?  Would she be safe?  I mean, she's a speed lover with no fear, but would she really enjoy it?  What if, after putting everything together to make an entire ski vacation work, she didn't like it and we spent the whole time in the condo?  Maybe it's just better to stay close to home.  And honestly, we'd been so exhausted that it was hard to think about pushing so hard for something "not necessary."
Suddenly there are these new possibilities and I am energized as I remember who I was, and realize who I have become.  I had forgotten the old me – years of doctors and therapies and a heart that broke for the challenges my kid faced had taken their toll on my health and my spirit.  I will never be the same person that I was, but am invigorated to be better.  Regaining that passion for adventure and energy for life that once ran so deep in me, yet stronger and more compassionate for where our lives have taken us.
I hope with all my heart that you will be inspired to try new adventures in this life you now lead, and find the pieces of you that you thought you had lost.  The possibilities are endless.
Snowmamas, thank you for this amazing opportunity!