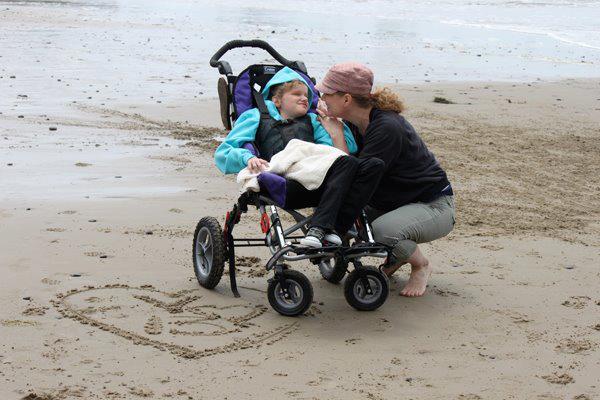 Someone told me the other day how traveling with their special needs child just doesn't work.  They had tried a family vacation once and it was horrible; their child was unhappy the entire time, which made it hard for the whole family.  I've heard this from many parents, and honestly, after our first couple of trips I may have been heard saying the same things.  Now my daughter loves to travel; she smiles when she hears the jet engine start up at take off, enjoys exploring new places and can't wait to share her trips with everyone when we come home.
How did we get from excruciating to exciting?  We started small and dreamed big.

If the big Disney vacation is your first trip out, it's sad to say but unless you live nearby, I can almost guarantee it will end in disappointment.  Set yourself up for success and take some practice runs to build up to that.  Your child is not used to all of the changes, noise, etc that a big trip involves, and you need an opportunity to consider what traveling with your special needs child looks like.  Practice runs give you some experience about what your family needs for a successful trip, and helps your child become more comfortable getting out.
To get started, go somewhere no more than a couple of hours away for a night or weekend away.  Your traveling with a safety net; you can come home early if you need to, and you'll be familiar with things available to you – pharmacies, restaurants, etc.  Just keep your expectations in check and go with the flow.
Our first trip away was to a local beach – and most of that weekend away was spent in our hotel room.  My special needs daughter was overwhelmed by all of the change and wanted 100% peace and quiet.  We stayed in the room and couldn't watch a movie or even talk, let alone go out and do anything.  Super fun.  Fortunately it wasn't an expensive trip and we did see the beach… a little.
Lessons learned.  On our next trip we reserved a 1 bedroom suite with a balcony; V would have her own space, and if I had to spend the whole weekend in the room, I would at least enjoy the view. Booking this off season made it more affordable and less overwhelming.  This trip was much more enjoyable – we actually left the hotel room!
The moral of the story?  It gets better!
Every trip since has gotten easier as we've learned what works for our family, and as V has become more comfortable with change and new environments.  We've worked our way up to 8 hour flights and full days out on adventures.  At the same time we have learned how to manage expectations.  Vacations don't look like they did before having a special needs child; we take things a little slower, book a room with amenities that make things more enjoyable, and take into consideration that we don't have to see everything.  Maintaining an attitude of adventure and keeping things flexible means everyone has more fun.