We have a couple of winter vacations planned in the Great White North; I'm excited for my daughter with special needs to ski in champagne powder snow, eat Nutella crepes and hear French spoken in conversation when we visit Quebec next month.
We might share the continent and speak the same language (sort of, eh?), but US citizens still need a passport to visit Canada.
My biggest concern about getting a passport for my special needs child was getting the photo right.  My daughter is blind, doesn't put her head up all the time, and has severe scoliosis so it's tough to get pictures of her straight on.  And like so many kids, she has very little patience for the photo process.  I am always completely spent by the end of any photo session and I've learned to be happy with the best that we can get.
However, the Passport Agency doesn't take "the best that we can get."  They're picky!  When I got my passport a few years ago I tried taking my own photo – diligently following all of the instructions provided online.  But when I presented it to the agent, it was rejected and I had to have retakes. Honestly, thinking about this possibility with my special needs child had me a little stressed.
This time we had the pictures taken at a local drug store and I brought troops of support.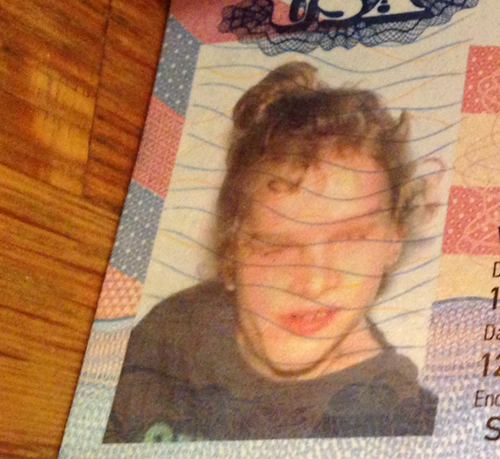 So…what did it take to get a passport photo for my special needs child?
2 parents, 1 grandparent, 1 photographer, 30 minutes and 3 options to see which the Passport Agency would accept.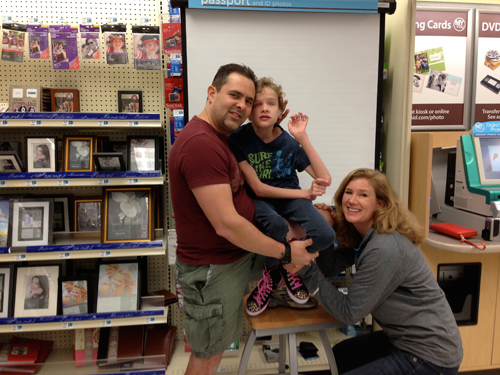 Thankfully when we submitted the photos the agent was actually very accepting of my daughter's circumstances, and picked "the best we could get."
A few tips for taking a passport photo for your special needs child:
Have the photos taken at a slow time of day.  Mid-morning or afternoon after lunch and before school is out are good times.  Give the photo agency a call and see if you should have an appointment or if they have any suggestions for time or day of the week.
Bring a friend (or two) to help out.
Bring a white blanket or pillowcase.  The photo has to be taken on a white background. If your child is in a wheelchair, bring a white pillowcase or towel to put behind them.  My daughter's wheelchair is reclined slightly, so we had to hold her to get her fully upright.
Have several options to take with you.  Ours were taken at our local RiteAid – they know us well there!  They were really great, several associates helped out and the didn't charge extra for the variety of photos.  They were cheering with us when we got one that we thought would work!