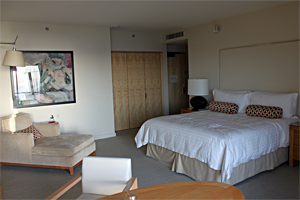 I recently reviewed the Four Seasons Seattle for TravelingMom.com – read my review.
What I want parents of special needs kids to know:
The Four Seasons Seattle is definitely luxurious and in a fantastic location, but what I loved the most was how accommodating they were. The goal of the Four Seasons Seattle is that you have a fabulous stay, and it's not just a slogan, it's in their actions. I noticed that the rooms did not have coffee pots, microwaves, or refrigerators, so I asked about that. They said almost anything that we need for a good stay can be arranged, including strollers, bottles, baby supplies, coffee pots, microwaves and refrigerators. Just ask. Same with the concierge service, they were knowledgeable and efficient, but will do more than just arrange dinner for you. Call before your trip and they are happy to help arrange your entire trip, what a great resource!
I hear from other families like mine with special needs kids that one important consideration of traveling is the room. There are some trips that we end up spending a lot of time in our room because V isn't feeling well, or she's overstimulated from our planned activities. The Four Seasons Seattle is definitely comfortable; spacious rooms, marble bathrooms with over-sized soaking tubs, and heavenly bedding. Add their beautiful, warm outdoor pool overlooking Elliott Bay, on-site restaurant featuring locally sourced menu selections and allergy-free options, work out room with a view, and spa with complimentary steam room and sauna and you have a place to land that is very relaxing, and provides lots of options for any eventuality. Take in Seattle sites and attractions at the pace that works for you, knowing you can land at hotel and have more options.
My goal is not a hard sell on the Four Seasons Seattle. My stay was complimentary for my review on TravelingMom.com, but there was no other compensation. I just want you to know that there are places out there that you can actually relax at and worth the money. My husband, who is typically skeptical and helps me keep grounded on these things, was also impressed and commented on how we should come back again during the summer for a fun weekend including a Mariner's game. I'm looking forward to that!