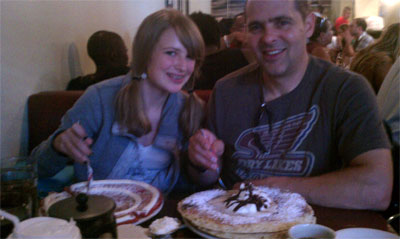 On our recent trip to southern California, we had one morning to spend in Los Angeles before moving on down the coast to San Diego. My family loves breakfast, so I knew I had to find someplace special for us to eat. I did some research and found The Griddle Cafe on Sunset. Online their menu looked intriguing, with pancakes of all variety and flavor, including Red Velvet. I knew we had to experience this for ourselves.

We arrived at The Griddle Cafe mid-morning on a weekday and found ourselves in line outside for a 25 minute wait. Everyone in line said this was typical, and well worth the wait. Once our name was called we were seated at our table and then the fun began as we looked over the menu, trying to decide between all of the options. My husband ordered a short stack of "Mounds of Pleasure" (sounds kinda suspicious, huh?) coconut and chocolate chip loaded pancakes, Syd ordered the "Red Velvet" pancakes, and Veronica ordered the "Hear Me Roar" pancakes filled with Frosted Flakes and strawberries. I'm gluten-free, but certainly did not suffer with an amazing "Fiesta Scramble" complete with fresh salsa and avocado.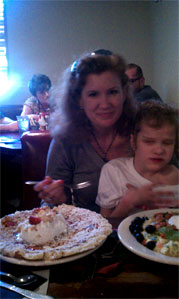 Our food arrived and our eyes went wide. The pancakes were as big as the plates they were on, topped with fresh whipped cream. The Griddle Cafe does not scrimp on the add-ins or ingredients, there might have been half a bag of chocolate chips in my husband's two pancakes (at this point he was thinking he could have just ordered one pancake, not the short stack). Everyone in our family absolutely loved their breakfast choice and The Griddle; the fantastic food, the coffee fresh-pressed at your table, the outstanding service. We had plenty of leftovers, but they did not go to waste, they made a great midnight snack later.
Accessibility Tip:
The entrance to The Griddle Cafe is level, no steps and they will seat you at a table near the front of the restaurant or outside on the patio so that you don't have to navigate around tables and chairs. They were very accommodating. It does get pretty loud, so if your special needs kid has sensory issues, sit outside. The noise level stressed Veronica out a little, but once she started eating her pancake it was all good.