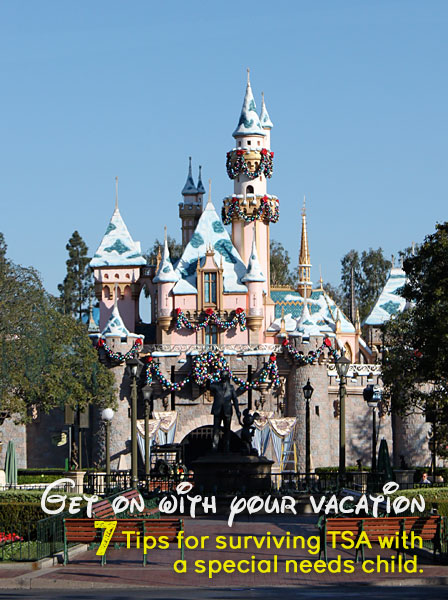 Getting through TSA with my family is a comedy worthy of a Sundance short film.
I have a daughter with special needs who's in a wheelchair, and a daughter with Type 1 diabetes with a meter, needles and insulin. Last family vacation I had an aggressive travel plan which included each family member taking their own carry-on to avoid baggage fees. As soon as we got to the airport and opened the back of our SUV it was apparent that my plan had some flaws.
How were we going to actually transport the entire back end of our Suburban through TSA and onto the plane?
With no cart in sight and the uncertainty of TSA lines, our only choice was to pick up and go. Loaded down like pack mules we made our way; my husband pushing my daughter's wheelchair and pulling his and her carry-ons, me pulling my carry-on with the car seat teetering on top and my laptop bag and purse over my shoulder, my oldest daughter pulling her carry-on, her sister's personal bag, and our camera bag.
But we were just getting started…
Things really got fun when we arrived at TSA, where we frantically began taking off our shoes, pulling out liquids, and handing equipment to be checked by security.  Shoes and baggage flying, my husband and I decided we should divide and conquer.  I took care of our bags, medication, liquids, computer and car seat, while my husband carried our youngest through the metal detector as TSA scanned her wheelchair. Trying to fit her big car seat through the conveyer was like getting Winnie the Pooh out of Rabbit's house after he ate too much honey; we pushed and pulled and it took a few tries, but it finally fit.
Breaking out in a full sweat, we collected our things and made our way from TSA through the terminal, no hands free for a Starbucks stop. It was completely ridiculous, I wish I had a photo…kind of.
At the terminal, Alaska Airlines made sure we were taken care of.  One thing that I did do right was arrange for early boarding, ahead of pre-boarding, so that we had the most time to get everyone situated. The Alaska Airlines' flight attendants were extremely accommodating and patient.  We got V's car seat installed, stowed all of our bags and finally took a breath.  Let the vacation begin!
Learn from my mistakes, here are some tips for getting through TSA with a special needs child:
Allow plenty of time. Depending on the airport and time of year, I try to give our family at least an hour and a half from parking to boarding.  I'd rather sit and relax in the airport with a little extra time, than chance missing a flight because we got hung up at TSA.  One time my daughter tested positive for bomb residue which took up quite a bit of time…but that's another story…
Check your bags.  Seriously, it's worth it when traveling with kids that are young or have special needs – you've got enough to keep track of and transport!  Remember to keep medications and valuables in your carry-on so you know you'll have them.
Consider car seat alternatives.  My handicapped daughter is unable to sit unsupported and needs a bigger than average car seat, so we still need to lug the car seat with us, but for most people this isn't necessary.  You can rent a car seat with your rental vehicle, or check your car seat as baggage.  For inflight safety, there are seat belt systems from CARES, providing a harness to help your little one stay safe in case of turbulence.  Find out more about FAA child seating regulations.
Call the airline in advance.  After our flight is booked I call the airline and explain that I am traveling with a handicapped child.  The airline agent then finds the best seats for us and flags our tickets so that we are called to pre-preboard.  Believe me, everybody is happier having us settled before general boarding. They can also arrange for a wheelchair if a family member can't walk all the way to the gate, or extra assistance if I'm traveling alone with my special needs daughter.
Getting through TSA.  The obvious things are wearing shoes that are easy to take off and put on, not wearing a lot of jewelry or belts that can set off the metal detector, and having your bag of liquids easily accessible.  Less carry-ons can cut down on the stress factor.  There are lines specifically for special needs that typically accommodate families as well.  This line is usually shorter, and in my experience the agents seem to be more patient and helpful. Follow these links for TSA family and special needs details.  TSA Pre-Check Expedited Screening can also be helpful.
Have liquid medications and diabetic supplies separated, and hand them to the TSA agent to hand check.  Here are more tips for traveling with diabetic supplies.
Keep your sense of humor.  Sometimes that's all you've got keeping you from falling over the edge of insanity.
Read more tips for flying with your special needs child.