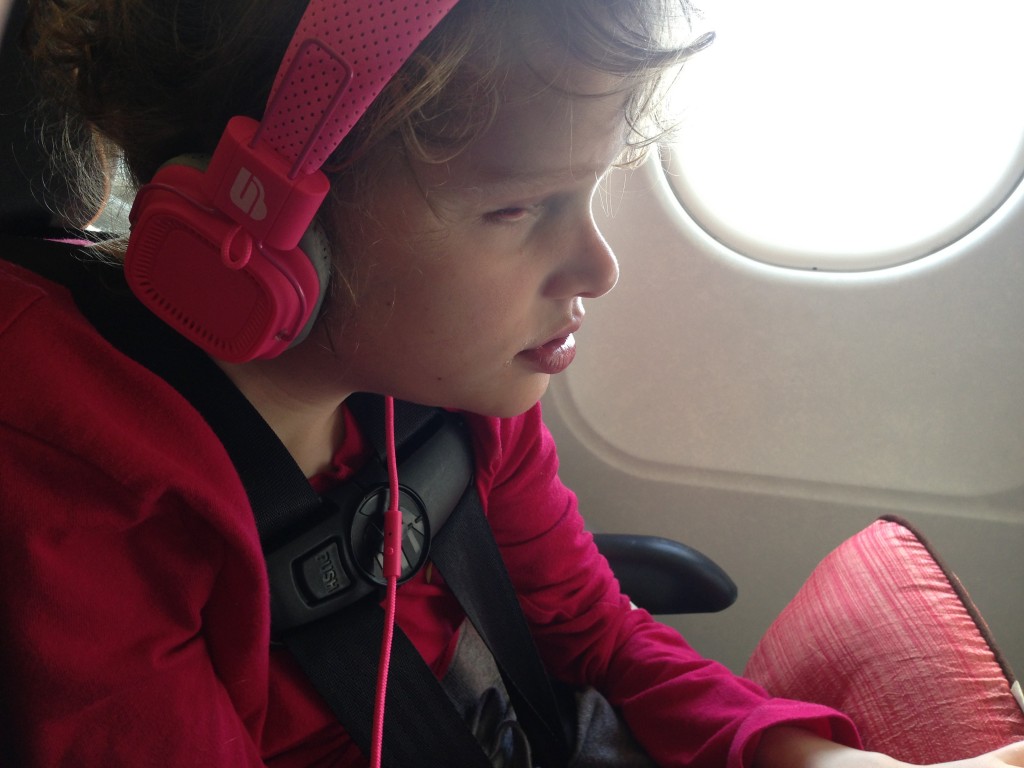 We just got back from Disney World in Orlando – I don't think there's a destination in the US that could be much farther from our home in the Seattle area. While we've flown many times, our longest experience flying with my special needs child to date has been about 3 hours. Not able to fly direct, our flight to Orlando was almost 8 hours and included a change of planes. Not only is that a long day, but getting all of our stuff off of the plane, then going through the boarding process again – including re-installing my daughter's car seat was daunting. Definitely not something I was looking forward to.
To complicate things further, it was just my two daughters and I; my husband was not able to join us on this trip.
Fortunately I was too tired to worry about it. Although admittedly I did have a few fleeting thoughts, like, "What am I doing? Am I insane?!" Maybe.
These tips made flying with my special needs child easier, hopefully they will help you, too:
Check the "Special Services" box when booking your flight

Meet our new friend from Delta Airlines, he even loaded our luggage into the car

Even if you don't need a wheelchair, the airline will have someone available to help you get to the gate and on and off the flight. We've used this service on Delta, Southwest and Frontier airlines, all with great results. Make sure that you remind them of this service request at the ticketing counter and check in at the gate early, reminding them of your boarding needs. I always say (with a cheery laugh), "It takes a small village for us to travel – Everyone will be happier if we have extra time to pre-board." It's true! Nobody wants to be hit by our car seat or bags as we balance everything. On this flight my older daughter couldn't get the car seat and our carry-ons on the plane by herself – I was carrying V. The flight attendants stowed everything for us while my daughter put in my car seat. Flight attendants have installed the car seat for me before when I flew alone with my special needs daughter.

Prepare for Bathroom Breaks

Our kids all have different needs, but my child wears a diaper. 4+ hours is a long time in diaper, but changing in the bathroom on an airplane is almost impossible, so I have a few tricks to keep her comfortable. I buy diaper doublers or Poise inserts, you now those ones advertised for the geriatric set? Yep, those. The are like form-fitted, super absorbent maxi pads. And they work. I don't don't even care what anyone thinks when I buy them. I also put some Calazime on her bum to protect her skin. So far I have been able to find family bathrooms in every airport terminal I've changed planes in, they have larger changing tables. It grosses me out to think about putting my child on them, so I bring disposable bed pads to put down under her for a super quick change.

Snacks

I bring lots of snacks, lots. Crackers, cheese, carrots, protein bars – a wide variety. Nothing diverts attention like a snack and you know the airline will not provide much to keep a tummy satisfied. My oldest child was recently diagnosed with Type 1 diabetes and requires insulin and blood sugar monitoring, so I have lots of extra food that we know works well for her just in case we are stuck on the tarmack or have flight delays.

Keep Ears from Hurting

Gum is great for keeping the ears from plugging due to altitude – my daughter loves chewing gum, so that works for us. Basically anything that makes the jaw work during take off and descent is helpful, like a pacifier or bottle. For an older child consider EarPlanes. They are like ear plugs that keep your ears from popping and hurting.

Bring Things to Do

Bring a favorite toy or stuffed animal to comfort your child, plus a couple of books or toys. I load new stories on my daughter's iPad, that keeps her entertained. We have these Sol Republic wireless earphones and love them! Keeping your child entertained means a better flight for everyone. I was actually able to read a book – I never have that kind of time to myself, it felt kind of luxurious…

Check as Many Bags as Possible

Believe me, the less you are lugging around, taking through TSA and trying to board the plane with, the happier you will be. A couple of times flight attendants have gate checked one of my carry-ons for me at no charge. It was nice to have one less thing to lug onboard and they were thankful to have extra room in the overhead compartments.

Protect Your Stroller or Wheelchair

My daughter needs a special chair, she can't sit in a typical wheelchair, so we take her stroller type wheelchair all the way out to the door of the plane and I fold it down. I've watched the baggage handlers with it and although I haven't witnessed abuse, it doesn't get treated as the $3,000 piece of equipment that it is. Make sure that it's tagged with your name and contact information and if a case is available for your equipment, get it. I just got a case for ours, but the reality is I don't use it as often as I should, there's just too much going on to get her on the flight and her chair packed up. Consider travel insurance that covers your chair.

Pack Medications in Your Carry-On

You never know when your flight will be delayed, or checked bags mis-directed. Keep you meds with your carry-ons – including Advil…for you. I always need Advil after a flight.

In many airports there are lines for wheelchairs or special needs. Ask someone if you don't see one; the lines are usually a lot shorter and the agents there are more experienced with special needs. You can bring liquid meds through TSA. Bring them in your prescription bottle and hand them directly to TSA and tell them that they can't be x-rayed. They will hand check them, which sometimes means you get a pat down, no big deal. I've also done this with juice boxes for my daughter diagnosed with diabetes, the same goes for tube-feeding nutrition drinks and baby formula.

Bring a Lightweight Blanket

A little travel blanket comes in handy, sometimes flights get chilly or it can be used as a pillow. Believe me, somebody will use it – it might be you.
One thing I've learned is that flying with my special needs child gets easier with every trip, we have the routine down to a science. My special needs daughter actually laughs when the engines rev up because she knows we are going someplace fun. But that's not how our first trip went, so take heart, the more you travel the better you all get at it, and the more fun you are able to have.
Enjoy the adventure!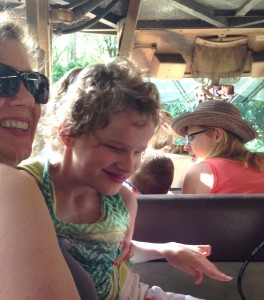 Disclaimer: Some of the links are affiliate Amazon links because I'm addicted to Amazon Prime.