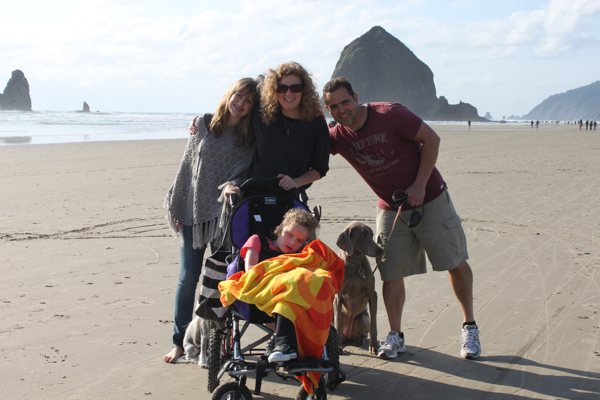 We drove into Cannon Beach for the last evening of our "Twilight" movie road trip and were greeted by blue skies, sunshine and beautiful sandy beaches. Cannon Beach is one of our favorite weekend getaways for many reasons, but mostly because it's beautiful, accessible and there is a lot to do no matter the weather or time of year.
This was our first stay at The Ocean Lodge, located steps from the beach. We had a pet-friendly ocean front room with a kitchenette and separate bedroom. Open the sliding door and you found yourself on a deck with 180 degrees views of the beach. Breathe in and you feel the salt air, cool breeze and warm sun melt away any stress you carried in.
I've written a full review on TravelingMom.com, but in summary here's what we thought of the Ocean Lodge at Cannon Beach:
The biggest thing we liked about the Ocean Lodge was it's proximity to the beach. We loved being able to step out and walk right on the beach. My husband and older daughter could go for a walk when V was done with the beach – I could still sit out on the deck and enjoy. Note that this is a sandy beach access, so it's not wheelchair accessible, but Troy Crowe, assistant manager at the Ocean Lodge told me that the Cannon Beach Police Department issues short duration beach access permits at no cost for persons with disabilities. Next trip I plan to try this and see how it works. In addition, the Lodge is beautiful, staff friendly and rooms new and comfortable. They are pet-friendly, but have rooms that are allergy-free as well. There are 2 ADA rooms, but if you need other things to make your stay more accessible, let them know and they will work to accommodate you as much a possible. For example, we didn't need a dedicated ADA room, but a bench in the shower makes things easier. They happily had a shower bench brought to our room.