Yesterday I wrote about the kids clubs on a Disney cruise and how they work for special needs kids. All of our kids have different needs, so some children might participate all day non-stop, while others might need breaks. Either way, you will have some much deserved time to relax, knowing your kids are having a good time in their own activities. But what will you do with no work, household chores, therapies or doctor appointments to consume your time? Relax! This might be the first chance you've had to do this in a long time. Here are some things for parents to do on a Disney cruise: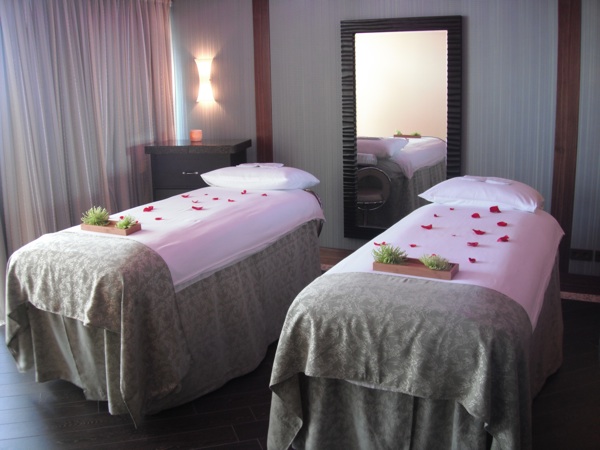 Senses Spa and Salon
This full-service spa is gorgeous! Have your hair done, a manicure, a pedicure, and a wide variety of massages and treatments – even teeth whitening, all while enjoying an endless view. There is a teen area and private villa option for couples. It is recommended to schedule a service in advance when you book your cruise, you can book services while onboard but when I went all spa treatments were booked by that time. Instead I enjoyed a $16 day pass for the Rainforest area, which has a series of showers with different light, aroma and water therapies, steam rooms and a sauna, and a private lounge area and hot tub. There is a 24 hour cancellation policy, so you might books services in advance with that in mind. More about the Senses Spa on the Disney Fantasy cruise ship.
Fitness Center
Maybe a yoga class or work out sounds good. Next the the Senses Spa is a state-of-the-art fitness center with treadmills, elliptical trainers, weight machines, and spinning bikes. Numerous instructional classes and personal trainers are available (for an additional fee). There is a running track on one of the decks for a nice run or walk with a fab view.
Buena Vista Theater
Because Disney also owns a movie company they are the only cruise line that show first run flicks in their beautiful full-sized theater. When I was on the cruise the options were the newly released John Carter, The Help, and Cars 2, the new Muppet movie, War Horse and Tangled. Of course movie snacks are available for an additional price – one of the only things not included in your cruise price. Many people choose to pick up a snack or drink from Cabanas buffet and bring it with them to enjoy. Relax and enjoy a movie without interruptions.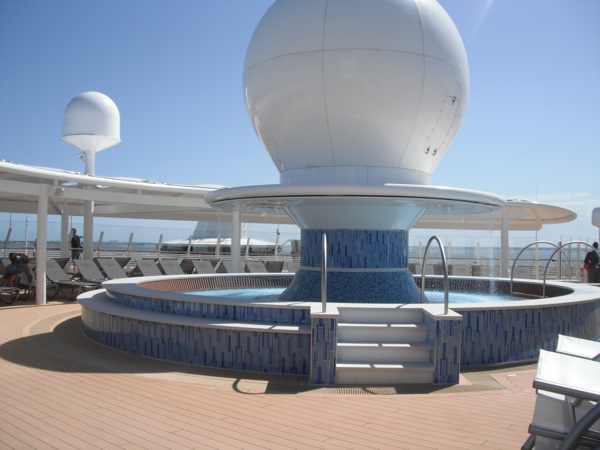 Pool and Aqua Duck Waterslide
Just be and enjoy the feeling of having nothing that needs to be done. There are several pool areas, some for families, some for adults. Enjoy the pool or plant yourself in a deck chair and enjoy the Carribean breeze, relaxing ocean views and pool side bar and cafe services. Recall your inner child by taking a solo spin on the Aqua Duck.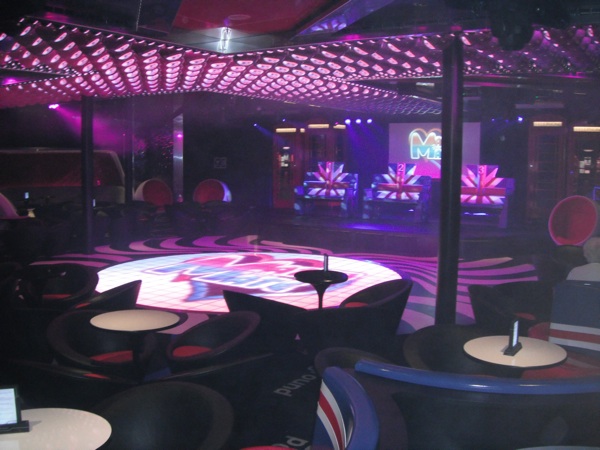 A Night Out – Have you forgotten what that's like?
Europa District
The Disney Fantasy onboard adult area is called the Europa district, where you will find several European-inspired nightclubs and lounges:
Skyline – Trendy metropolitan lounge, with signature drinks and a cool vibe.
La piazza – Italian-inspired lounge with a bar that looks like it's in the center of a vintage Venetian carousel – without the spinning, because who needs that? Features live music at specific times. Make sure you get a photo on the Vespa!
O'Gill's Pub – You guessed it, an Irish-inspired pub, plus big screen sports bar. When I visited there was quite a crowd here enjoying the Final Four.
Ooh La La – Think modern interpretation of Louis XIV French design. Tufted velvet walls, Victorian furniture and ornate decor.
The Tube – My Favorite! Walk over the London Bridge into this everything-British Austin Powers-inspired lounge and nightclub. Here you can have some drinks and watch "Match Your Mate", a live game show where couples from the audience compete in a hysterical version of the Newlyweds. Afterward, the music cranks up and you can dance the night away.
Fine Dining for Adults Only
I was able to sample all of the family restaurants; it was all wonderful upscale dining. But if you want a special night out in an adult-only restaurant, there are two choices for a romantic evening with regionally inspired cuisine and ambiance; French-inspired Remy, and Italy-inspired Palo. You can make reservations when you book your trip or onboard.
Shop
The Disney Fantasy has several shops with everything from Disney-themed items, to designer handbags, luxury watches and jewelry, duty-free fragrances and liquor, and a Guess-branded store.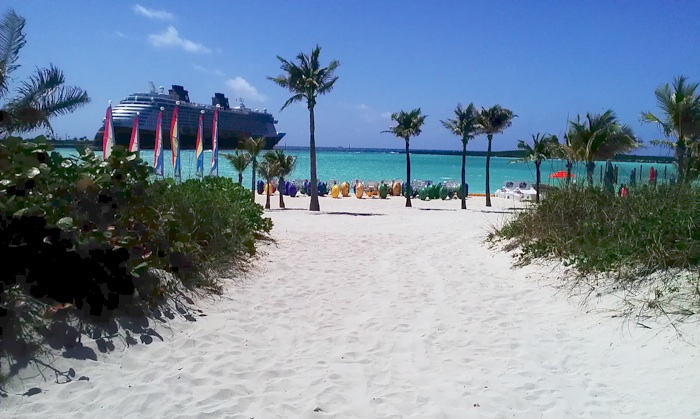 Castaway Cay
Depending on your cruise, you may spend a day or two on Castaway Cay, Disney's private island. There are several beaches; one with water activities, one with private cabanas that you can rent and one for adults-only.
Want to find out more about Castaway Cay activities and what activities are available for special needs kids, families and adults? Stop back tomorrow for my next Disney cruise post.
Disclaimer – Disney hosted me on the Disney Fantasy Inaugural Preview Cruise, but the opinions and experiences are my own.