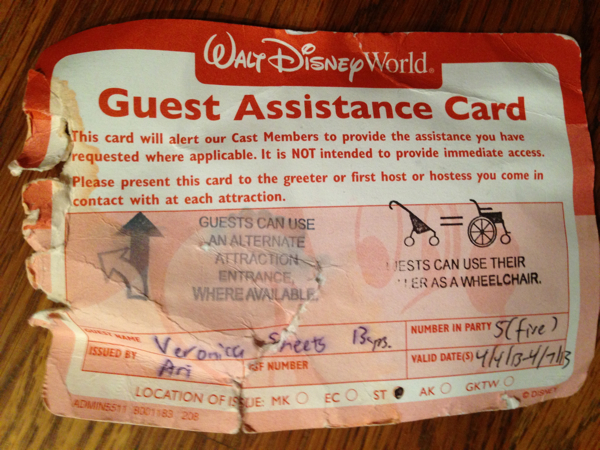 Last week it was all speculation, but today Disney announced it's new policy for guests with disabilities, which essentially looks like the Fast Pass, but with a return time based on the actual wait time for the ride.
This is Disney's response to people without disabilities gaming the system, but what it really does is penalize those with a disability.
What Disney doesn't seem to understand is that my daughter probably won't be able to come back in 2 hours (or whatever) for our allotted time.  Due to severe medical issues we have to approach everything "in the moment."  In a couple of  hours at our allotted time, my daughter may be in severe pain, or may be too overwhelmed by the trip and need to rest back in the room.  Our day at Disney is already much shorter than average because my daughter doesn't have the endurance that she would without her disabilities.
And what about getting around to get your passes?  Getting from attraction to attraction to get our passes with a wheelchair really takes a lot of time and energy, eating up the precious few hours that my daughter has in her to enjoy the Happiest Place on Earth.
I realize that the ADA has tied Disney's hands – they can't request a doctor's note or make a judgement on qualifies as a disability, but there has to be a better way.
The change takes effect Oct. 9. Disney officials said more details will be released after park employees are briefed on the new rules, hopefully some of the details give more options for families with special needs kids.
Color this Special Needs Travel Mom disappointed.
Here is the full story from my friend Barb Likos at TravelingMom.com.