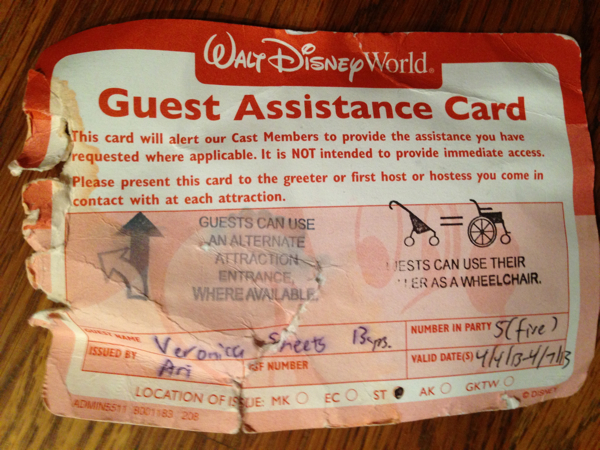 You may have heard rumors about a magical pass for visiting Disney World with special needs that means less waiting in line and special accommodations.
I'm happy to say that those rumors are true – it's called the Guest Assistance Card and its powers will make your Disney experience even more memorable.   For my daughter who's blind and in a wheelchair, it allowed our whole family to use the wheelchair line, which in most cases was a much shorter wait – you gotta love that.
It also alerted the Cast Members that we needed extra assistance, and they sure delivered!  At every attraction I was asked how my daughter needed to get on the ride, and was informed about what to expect.  Since my daughter doesn't sit well independently, I was offered the opportunity to let my family go on Star Wars Tours together while I stayed with V, then switch with my friend so that I could ride with my older daughter without waiting in line again.  I declined, not wanting my special needs daughter (V) to be left out and certain that we could make it work.  V loved the ride!  Afterwards the Cast Member brought me V's wheelchair and told me that they had watched her the whole time, and were prepared to stop the ride if she wasn't doing well on it.  I appreciate that they let me judge what my daughter could do, and that they were watching just in case.  See how accessibility / wheelchair access worked on the Animal Kingdom Safari experience.
How to get Disney World's Guest Assistance Card

Upon entering the Disney Park head to Guest Relations, it's right inside the entrance, and explain your child's or family member's disability and needs.  They'll issue a card stamped with your specific requirements.  If your child has challenges that are less noticeable you might consider bringing a doctor's note, although I have been told that you don't need one.  There are some people who try and cheat the system claiming to have a disability for the possibility of shorter line, shame on them!  I hate it when people take advantage of services provide for families that are truly dealing with difficult circumstances, so sad.
While you are at Guest Service find out where the First Aid center is
The First Aid center is a great resource when visiting Disney World with and special needs, here are some reasons why:
Storage for medications that need to be refrigerated while you are visiting the Park.
Private changing and toileting areas.  Small, private bathrooms each with a large changing table are available.  Something that would have made a prior trip to Disneyland a lot more fun if I had known at the time.
Sharps containers for disposal of hypodermic needles.
Privacy for dosing or tube feeding.
Quiet, cool and calm – providing a break if Disney becomes too overwhelming for your special needs child.
That's the 411 on Disney's Guest Assistance Card, wishing you a magical Disney experience!
Disclaimer: Our tickets were provided by Disney Parks for review purposes, the experience and opinions are my own.