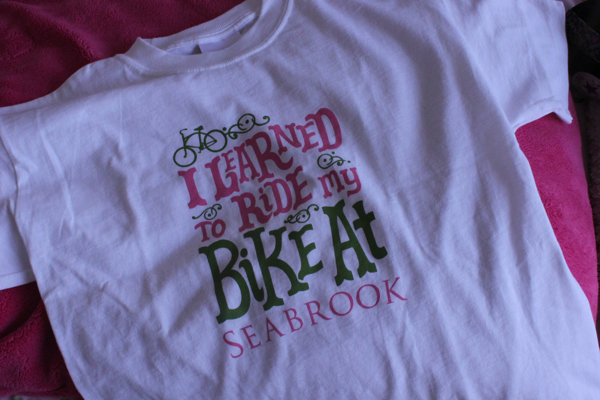 We don't own bikes. In the back of my mind I've always wanted to ride bikes as a family, but by the time V was big enough – and healthy enough – to try a bike trailer, I thought she was too long and wouldn't fit comfortably in a bike trailer. And until recently we didn't have any great places to ride near us. I have plenty of excuses… The last several beach vacations we've taken I've watched people riding cool bikes cruising around town with envy.
Well enough watching, time to do, our vacation at Seabrook was the perfect opportunity. After our experience with the convertible bike/cross-country ski trailer that we used when we went cross-country skiing in Park City last winter, I know V could sit comfortably in that type of trailer. I called ahead of our trip and confirmed that they had similarly sized bike trailers and asked about how the rentals worked. Now we had a plan. We picked up our bikes and cruised town around the town just like the cool kids do, exploring every street, alley and path, soaking in the rare Washington sunshine.
About bike rentals:
The bikes are rented by the hour, or for the day. $5 for an hour (no extra charge for the trailer), $20 for the day. The trailer can only be rented for an hour. There is a variety of bike sizes, definitely something for everyone. The bikes do need to be returned by 6:00pm, which I was a little disappointed about. With the late summer Northwest evenings, it stays light past 9:30pm, which is one of the things I've always loved about summer here. Nothing sounded like more fun than cruising around town in the summer evening like I did as a kid. Sigh. At first I thought I wanted to rent the bikes for the whole day but we were done cruising after just less than an hour. If we wanted to ride again later we could go back and rent, but the bike rentals are only available from 10-6 – with teenagers that sleep in late and take a million years to get ready, that doesn't leave a lot of time for bike riding!
About the trailer:
The bike trailers Seabrook uses are the Burley brand "Bee". They hold up to 100lbs and had quite a bit of room. V sat with her legs criss-crossed comfortably. Here are details about the Bee bike trailer.
Suggestions:
If you have bikes, bring them. It's fun to get out and ride whenever you want, but the rentals are fun and basically new. Renting a bike and cruising the town is a must-do, even if it's just once during your stay. You'll feel like a kid again.