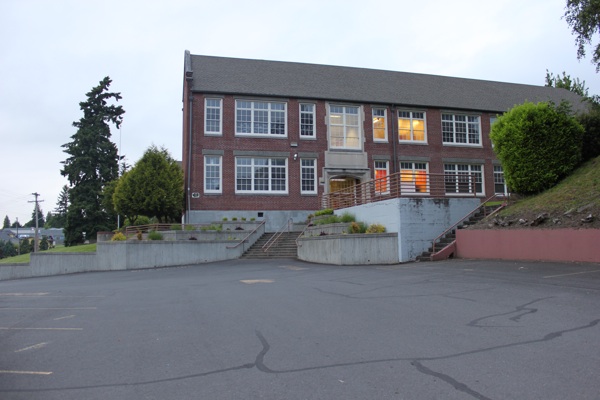 After seeing the Twilight movie filming locations in St. Helens, Oregon we drove back up to the Lewis and Clark Bridge and crossed back into Washington. Bridges across the Columbia are few and far between, and after doing some research I found that is was indeed faster to double back 30-ish minutes to cross the Columbia River the same way we came to continue to Portland. An added bonus, Kalama High School, used for the outside scenes of Forks High School, was an easy stop right on the way to Portland for the rest of our Twilight movie road trip.
Twilight movie filming locations – "Forks" High School
548 China Garden Road
Kalama, WA 98625
Take a walk up the stairs from the parking lot to find the open area where the vitamin-D deprived Forks High School students catch some occasional rays (the picnic tables from the movie are not there). Walk up past the building on your left with mural on the wall to see where Bella walked into the woods, and Edward followed her.
This was one of my favorite stops, everything looked just like in the movie, you could almost see Bella drive up in her truck.
The inside school scenes were filmed at Madison High School 2735 NE 82nd Ave Portland, Oregon.
On the way to the high school you will drive through Kalama's Antique District, which looked like a place I need to come back and visit. I've heard they have great antique shops and restaurants. Next road trip?
Next stop Mimi's School of Dance where the battle between Edward and James was filmed.