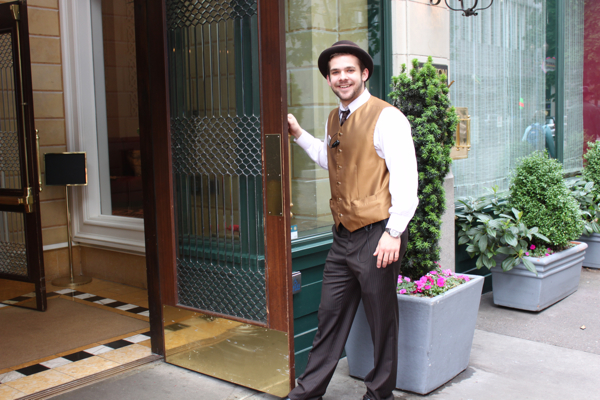 Somewhere on I-5, after we had visited the location used for the Forks High School scenes in "Twilight", my husband asked about the hotel I had arranged for the first night of our road trip. Until this point he hadn't asked about where we would be staying – I'll assume that he's just so trusting of my decisions that he doesn't even need to ask, but as we got closer to Portland we both realized we'd never stayed in a downtown area on a road trip. We take our dogs on road trips; I knew the Hotel Monaco was pet friendly and that there were plenty of parks nearby to walk them. But we also take our big Dodge Ram diesel with club cab and extra long bed and canopy. Where were we going to park that thing? I hadn't thought about that. I told him it would be fine, hoping I was right.
We pulled up to the hotel and the valet directed us to the parking garage with no hesitation, assuring us that parking would not be a problem. While the entrance and turn at the bottom of the ramp felt tight, there really was plenty of room. The bellman loaded our bags and delivered them to our room. The valet hoped in and quickly parked our truck for us – did I mention it's a stick shift, too? Yah, it's a beast. They obviously park cars and trucks of all sizes, because the valet maneuvered the truck with ease.
After checking in we went up to our room and were greeted with a special birthday wish for V: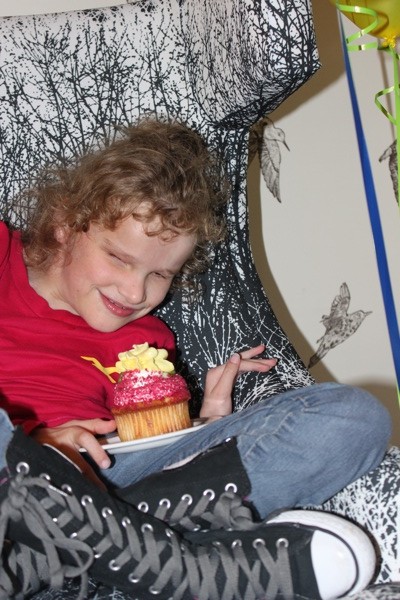 They also gave V a stuffed animal guide dog, the Hotel Monaco Portland supports Guide Dogs for the Blind, which makes me love them even more!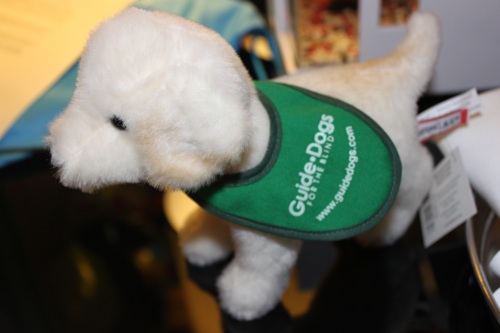 We were starving, but V was tired and not up for going out, so we tried room service, it was awesome! The Red Star Tavern and Roast House is on the floor level of the hotel, and provides the room service meals. I ordered a gluten free salad, my family ordered chicken strips, macaroni and cheese, and hamburgers with french fries. Dinner was made complete with a piece of s'mores cake to share. Everything was fabulous, and it felt good to relax together and talk about our plans for the next day of our road trip.
I've written a review of the Hotel Monaco for TravelingMom.com, but in a nutshell, we loved it there. The location is fantastic; in the heart of Portland, easy access to the freeway, and blocks from Tom McCall Waterfront Park. There are even bikes you can borrow to ride along the waterfront. The decor had a traditional foundation, but the colors, patterns and accessories showed a fun sense of humor. The service was fantastic; friendly, prompt…it was definitely all about the guests. The rooms were comfortable and relaxing. There is an on-site work out room, business center, Aveda spa and salon, and restaurant. They don't just allow pets, they welcome them. They also take into account guests with allergies, so one floor is hypo allergenic and 100% pet free. If you have specific allergies or needs, let them know so that they can best accommodate you.
I think my oldest daughter's review summed it up best, "I liked how the hotel was decorated, it was a fun place to stay! The people that worked there were friendly and talked to me like I was a person. I also liked the cocoa in the lobby, and the goldfish in the room for a friend." Upon request, a gold fish friend will be in your room to greet you and keep you company.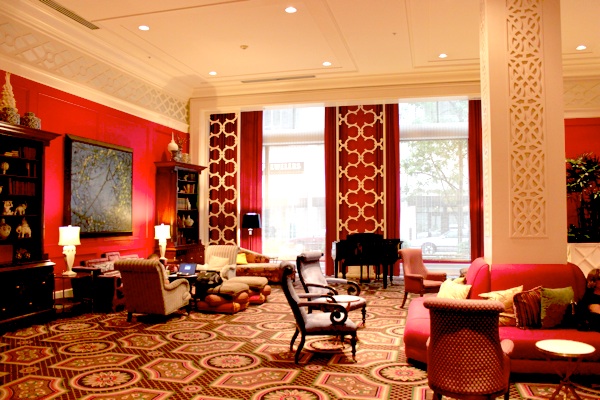 Disclaimer: Hotel Monaco Portland provided a night stay for our hotel review. The opinions and experiences are my own.