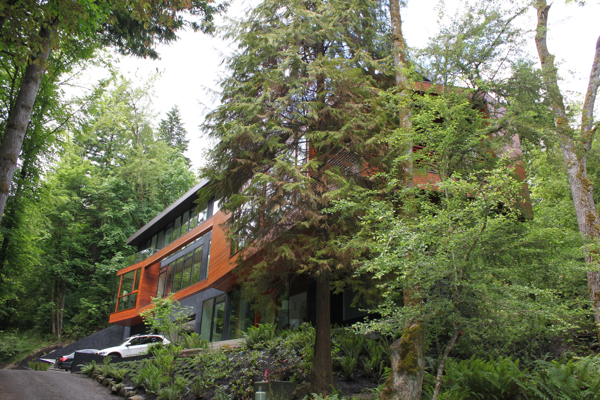 The Cullen family in the Twilight series live in a sleek, modern home defined by glass walls and high end decor. A stark contrast to the other homes we see in Twilight's version of Forks.



I was really looking forward to seeing the Twilight movie Cullen house in person on our Twilight Movie road trip, and although you can only view it from the street, it did not disappoint. It sits back from the road, up a short, private drive way in an idyllic hillside neighborhood consisting primarily of Craftsman and Old Portland-style homes. There is a family that lives here, they welcome Twilight fans to take photos, but ask that you stay at the end of their drive way. To get to the house we drove through the Northwest District of Portland, filled with restaurants and shops – I would love to come back and explore this area more!
From here we drove to Cannon Beach for the night and then to see where the La Push scenes were filmed. On the way, you ca stop in Vernonia to see the bridge Bella crosses as she drives into "Forks" with Charlie for the first time in the movie, as well as the building used for the police station. We were on to Cannon Beach and didn't stop in Vernonia. We wanted to hit the highlights, but not burn our driver out too much.
Twilight movie Cullen house location
3333 NW Quimby St
Portland, Oregon