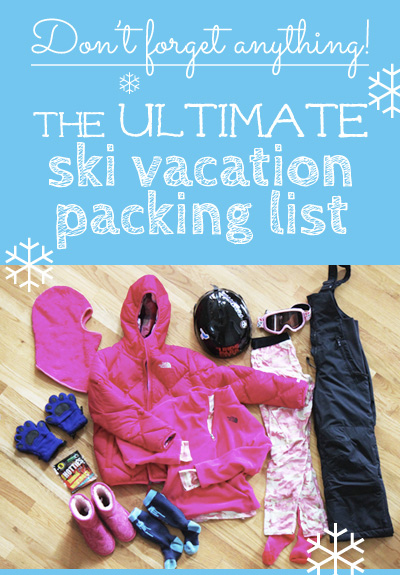 We're a family of snow lovers; the second the weather starts to turn cold, our thoughts turn to planning our ski vacations for the season.   The key to a fun day skiing is keeping the kids warm, and with variable on-mountain weather conditions, it's all about layers.  And since packing for a ski vacation takes more clothing – and planning – than a beach vacation, a good list is essential.
Cool Ski Packing Tip
I print out a copy of this list for everyone in my family and have them each pack their own bag, which really saves me some time and teaches packing skills. I do a quick check through everyone's bags to make sure that we've remembered everything – and add what's been forgotten.
5 Must-Haves on my Ski Vacation Packing list
We get the big box every year.  They keep little fingers and toes warm – and the kids love holding them in their mittens.
---
I'm a huge fan of SmartWool socks, they really keep feet warm and aren't itchy.  V has a pair of SmartWool tights that she wears under her base layer. Gotta keep those little legs warm – and they're cute!
---
Like Burt's Bees 100% Natural Lip Balm or Sun Bum Lip Balm with sunscreen because cold, dry air makes everyone's lips chapped. My personal fave is Baby Lips Dr. Rescue. They make my lips feel and look good, with a hint of color.
---
4. Snacks I can stash in my pockets
For a quick pick me up, or bribery. KIND Gluten-Free Healthy Grains Granola Bars, Individual Trail Mix Snack packets, Frigo Cheese Heads String Cheese, and Annie's Organics Fruit Snacks are some of our faves. We always have Gatorade Energy Chews on hand for my daughter with Type 1 Diabetes for a quick carb bump on the mountain. I'm a chocolate freak, so I always have a stash of dark chocolate in my pocket. Like chocolate covered almonds, or individually wrapped dark chocolate squares.
---
For next-day aches, travel day headaches, fighting kids, and warding off altitude sickness (along with lots and lots of water). I'm not a doctor or anything, but I swear if I take Motrin with some diet Coke (caffeine) then drink lots of water right when I start feeling the headaches and nausea coming on from the altitude, it goes away. So far it's worked for me…
---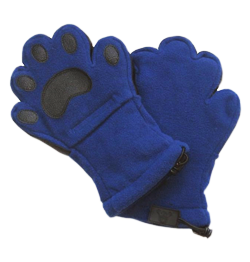 The Ultimate Ski Vacation Packing List
Here's the check list, click here for a packing list download. Print out a copy for each family member and you're one step closer to a great family ski vacation.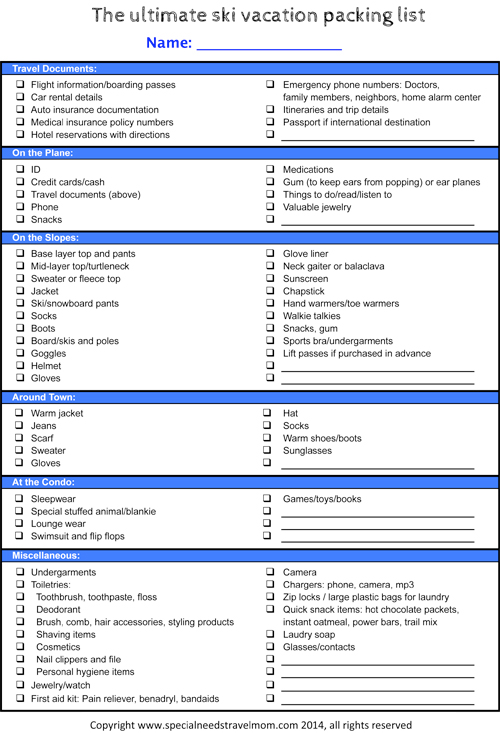 [click to download and print]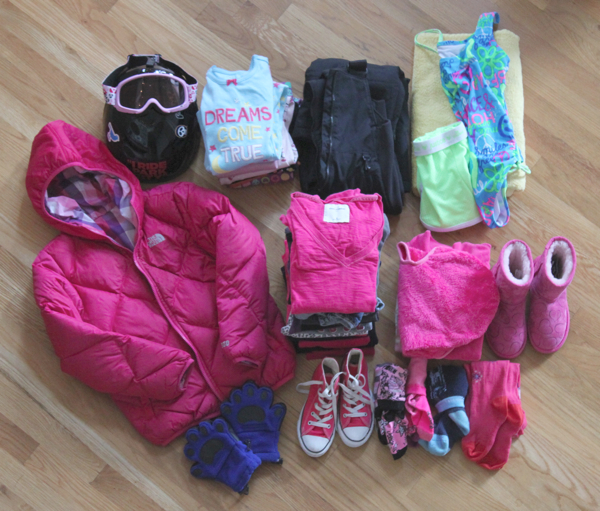 Disclaimer: This post contains affiliate links – they're all the products I buy, and I usually buy them on Amazon.  I'm so spoiled by Amazon Prime!