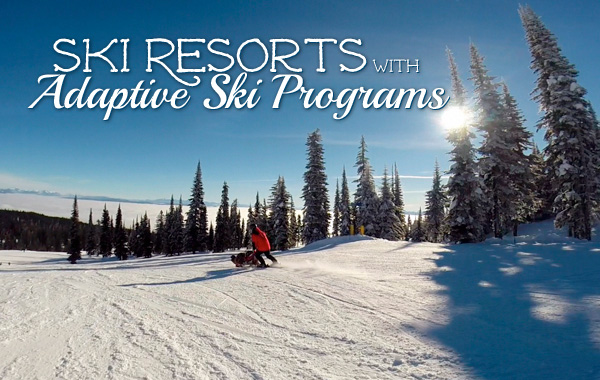 Originally posted Nov 15, 2014, and regularly updated as I become aware of new adaptive ski resorts.
Finding activities that your family can do together when you have a special needs child can be a challenge, but when you do find something that works, as cheesy as it sounds, it really can be a life-changer.  That's what we learned when we started skiing together as a family.
Prior to our trip to Park City and the National Ability Center a few years ago, my special needs daughter V would spend a fun day with grandma while my husband, older daughter and I would hit the slopes.  I convinced myself that V was happy, and while there was a piece of me that longed for her join us. I had a lot of concerns about a ski vacation.  How V would handle the altitude and cold? How accommodating would adaptive skiing programs REALLY be for he?  Would she actually like winter sports? In those ways that first trip to Park City was a bold step for us as a family, and that risk paid off in ways I couldn't have even imagined.  V was so excited to be a part of our activities, I had no idea that she had been feeling left out.  After the trip my oldest daughter said, "I loved doing things together as a family like other families do."  We were all feeling the same way.  Complete.
More and more ski resorts are including adaptive skiing programs for wheelchair-dependent and special needs individuals. Here's a list of the ones that I know about, if I missed one leave a comment and I'll add it to the list.  Think snow!
Adaptive Skiing Programs by State/Province
—-
British Columbia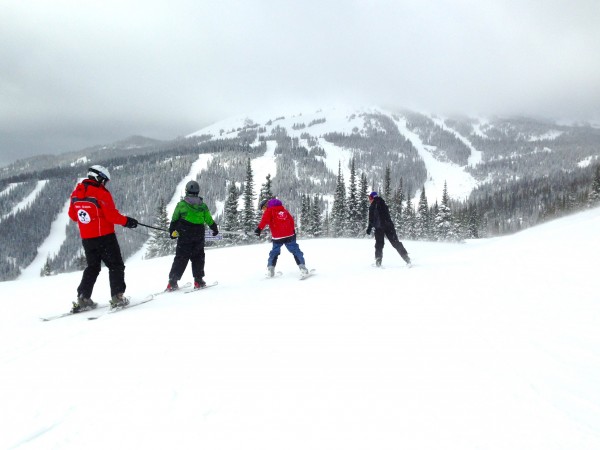 Sun Peaks Resort, British Columbia
A ski in-ski out village with covered sidewalks makes Sun Peaks Resort easier to get around with a wheelchair or limited mobility. They have an adaptive ski program that strives to meet the goals of each skier, with friendly instructors and an emphasis on safety. The second largest Canadian ski resort in acreage, their seemingly endless terrain covered in champagne powder will delight every skier and snowboarder in your family.
Adaptive Sports at Sun Peaks (250) 572-0616


Silver Star Ski Mountain Resort, British Columbia
There's something for everyone in your family at Silver Star: a tubing hill, skating rink, bowling alley, great food and fantastic skiing on BC's champagne powder. Their adaptive skiing program is run by a dedicated, friendly staff who find ingenious ways to help make skiing accessible regardless of ability.
Silver Star Adaptive Skiing (250) 260-3737

Whistler Blackcomb
Canada's largest ski resort works in partnership with the Whistler Adaptive Sports Program (WASP) to cater to a full spectrum of skiers and snowboarders from beginner through advanced.
Whistler Blackcomb Adaptive Ski and Snowboard (800) 766-0449
California
Bear Mountain, California
According to a reader, "Bear Mountain in San Bernardino State Forest, near LA. I have ski-ed with USARC for two seasons and they are superb."
Visit http://usarc.org
Lake Tahoe, California
From a reader, "Disabled Sports USA has affiliates in Lake Tahoe, California, at Alpine Meadows, Squaw Valley and Northstar. Wonderful program! My son was skiing on his own (w/out leashes) by Day 2 and doing blue runs the next year."
http://achievetahoe.org/
Mammoth Mountain, California
Mammoth's first and only, not-for-profit adaptive sports school.
Disabled Sports Eastern Sierra (760) 934.0791
Colorado
Aspen, Colorado
Aspen Winter Camp, Autism Skis!, Welcomes and Supports All Children and Adults on the Autism Spectrum.
Autism Skis!
Breckenridge and Winter Park, Colorado
My friend Barb Likos, accessibility advocate and owner of www.momofftrack.com, names Breckenridge and Winter Park as her favorite Colorado adaptive ski resorts. Adaptive skiing allows her snowboarding teen, her workaholic husband and her wheelchair using son to bond in a way that puts them all on an equal playing field. Her sit-skiing son is actually the best skier in the family which has been wonderful for his self-esteem and a real shocker to his older brother.
The Breckenridge Outdoor Education Center Adaptive Ski & Ride School (800) 383-2632
Winter Park National Sport Center for the Disabled (303) 316-1518
Challenge Aspen At Snowmass, Colorado
Reader Kelly said, "Challenge Aspen has been a life saver for our family. It was so difficult acclimating our son to skiing, but these wonderful people helped us and they do it for many different disabilities."
Challenge Aspen (970) 923-0578
Crested Butte, Colorado
Reader David says,"Crested Butte has a fantastic and large scale program. Serves kids, adults and disabled military. Extensive equipment choices. Will assign one on one instructors not only to the affected child but to all other family members to align times, locations and gear. Lower rates for financially challenged. Apparently largest center in western US. Trains other centers nationwide. Also serves diabetes/ autism. You really should check it out."
Adaptive Sport Center – 866-349-2296
Keystone, Colorado
The Keystone Adaptive Center is operated by the Breckenridge Outdoor Education Center, a world-renowned adaptive sports program that has provided a wide range of adaptive outdoor experiences for over 40 years. In addition to the ski lessons offered in winter, the BOEC also offers summer programs such as customized courses for groups and professional organizations featuring rock climbing, river trips, ropes course and more.
Keystone Adaptive Center/
Telluride, Colorado
From a reader, "We took my Emory skiing for the first time last year and she loved it! Telluride has an EXCELLENT adaptive ski program and they were wonderful with my kiddo! You should check it out sometime!"
https://tellurideadaptivesports.org/
Vail, Colorado
From a reader, "I'd recommend adding Vail, CO to the list. http://www.vail.com/ski-and-snowboard-school/adaptive-lessons/adaptive%20ski%20pass. They offer discounted ski pass for person with disability and companion."
970-754-3264 or email
Idaho
Higher Ground
A friend said Higher Ground at Sun Valley is "exceptional."  I want to go there next!
Higher Ground (208) 726-9298
Maine
Sugar Loaf, Maine
From a reader, "Learned how to ski with Maine Adaptive at Sunday River and Sugarloaf in Maine. Great program."
Maine Adaptive (800) 543-2754
Sunday River, Maine
Tamara Gruber of www.we3travel.com enjoys Sunday River, Maine and says that they have an active adaptive ski program.
Maine Adaptive (800) 543-2754
Montana
Eagle Mount at Bridger Bowl, Bozeman
Eagle Mount at Bridger Bowl offers therapeutic recreation to children and adults with physical and developmental disabilities, providing adaptive ski equipment, one-to-one lessons, and a highly trained staff.
Eagle Mount at Bridger Bowl 406-586-1781
New Hampshire
From a reader, "Mt Attitash in NH. great program. and available for last minute reservation."
https://www.attitash.com/adaptive-programs/
New Mexico
Ski Apache Adaptive Sports
From a reader, "Ski Apache Adaptive Sports in Ruidosa is fantastic. My husband who is in a wheelchair has skied with ski Apache adaptive sports since 2010. The instructors are fantastic and we have returned again and again. We see the same instructors year after year and have made some great friends and wonderful memories."
http://skiapacheadaptivesports.com/
Ski Santa Fe and Albuquerque
From a reader, "I taught adaptive skiing in New Mexico at Ski Santa Fe and Albuquerque. It's called Adaptive Sports Program."
https://adaptivesportsprogram.org/
Ontario
Calabogie Peaks Resort, Calabogie, Ontario
The Calabogie Adaptive Ski Program takes pride in providing people with disabilities the opportunity to learn the basics of downhill skiing.
Calabogie Peaks Resort – (800) 669-4861
Pennsylvania
Camelback Mountain, Tannersville, PA
Pennsylvania Center for Adapted Sports offers ski and snowboard lessons at Camelback Mountain in Tannersville, PA for ages 5 and up. For more information, visit centeronline.com or call Jeff McGinnis at 215-765-5118.
Camelback Mountain Adaptive Ski – 215-765-5118
Utah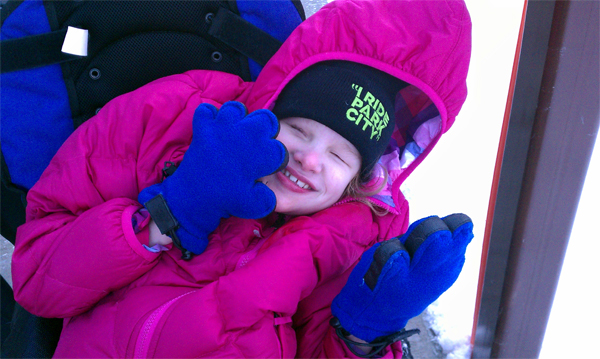 Beaver Mountain in Logan, UT and Common Ground Outdoor Adventures
A reader suggested Beaver Mountain with adaptive skiing provided by Common Ground Outdoor Adventures. Check out http://www.cgadventures.org for more information!
Common Ground – (435) 713-0288

Deer Valley Ski Resort, Utah and the National Ability Center
I had my first visit to Deer Valley last year and I feel in love, even though the are a ski-only resort. It's truly a full-service ski vacation experience. Their adaptive ski program and through the National Ability Center. Have them help you develop an accessible ski vacation like we did, or visit during one of their camps.
National Ability Center – (435) 649-3991

Park City, Utah and the National Ability Center
I wish every family with a special needs child could visit the National Ability Center. Located on 20+ acres of property, the National Ability Center has dozens accessible activities ranging from horse back riding and rock wall climbing, to sled hockey and skiing. Have them help you develop an accessible ski vacation like we did, or visit during one of their camps.
National Ability Center – (435) 649-3991

Snowbasin Resort in Huntsville, Utah
A reader made sure that we added Snowbasin to the list – looks like another great place we need to explore. Thanks Lisa!
Snow Basin Adaptive Sports (801) 695-7074

Snowbird Ski Resort
Provided by Wasatch Adaptive Sports
www.wasatchadaptivesports.org
(801) 933-2188

Sundance Mountain Resort
Provided by Wasatch Adaptive Sports
www.wasatchadaptivesports.org
(801) 933-2188
Vermont
Sugarbush, Pico and Bolton, Vermont
My friends at All Mountain Mamas write all about Vermont ski resorts and told me about the adaptive programs are at Sugarbush, Pico and Bolton.
Vermont Adaptive
Virginia
Wintergreen Adaptive Sports
A reader suggested Wintergreen Adaptive Sports in Virginia.
434-325-2007 https://www.wintergreenadaptivesports.org/
Washington State
Stevens Pass and Snoqualmie Summit, Washington
Outdoors for All (206) 838-6030
If you are thinking about a ski vacation, book your accessible ski lessons ASAP, as they tend to fill up quickly. Travel expert Jessica Bowers has some great tips on preparing your special needs child for adaptive skiing to make sure that you are set up for the best experience. Think snow!
Wyoming
Jackson Hole, Wyoming
From a reader, "We travelled to Jackson Hole, Wyoming with our family last January and we were SUPER happy with the adaptive ski program. The coordinator, Jason Malczyk, was incredibly responsive and the instructors were great. The whole family had a fantastic time and my daughter definitely improved and moved toward more independent skiing."
Jackson Hole Adaptive Ski Program
307-690-4774 or email at [email protected]