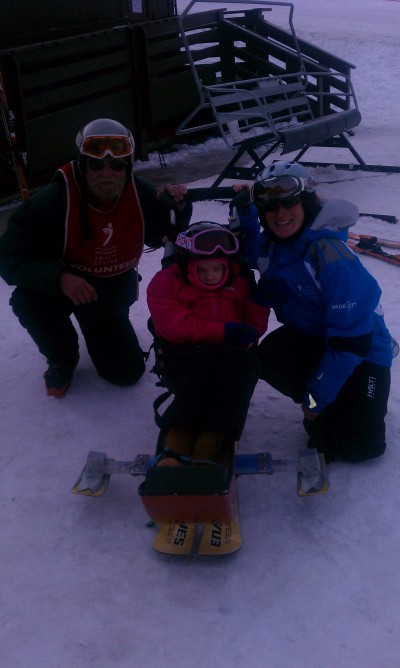 We arrived in Park City last night, and got up bright and early for our first day of snowboarding as a family. After picking up our demo snowboards we headed down to the National Ability Center (NAC) at Park City Mountain Resort for Veronica's first sit-ski lesson (she wants it to be called snowboarding). She has been so excited for this, we all have, but I wasn't exactly sure how she was going to sit in that sled with her scoliosis and challenging muscles tone. I knew if anybody could make it work for her, the NAC could, and they did. Her instructor's name was Quee (I'm guessing on the spelling, I'll confirm in the morning) and the assistant instructor's name was Hugh. They talked to Veronica about what to expect, set her up in the sled and practiced leaning – which she loved! We headed outside and onto the lift to the bunny slope, which is kind of where I thought we'd stay, but by the end of the session she was going down double blues and actually got a little air off of some small terrain bumps. She was very quiet, taking it all in, but relaxed and happy. As soon her lesson ended she fell asleep and took a long nap.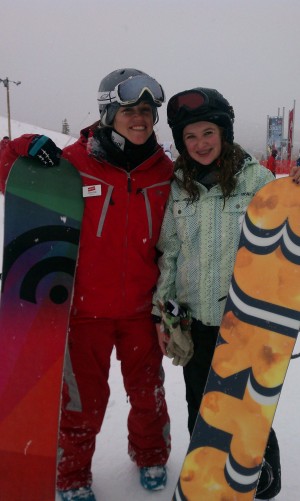 There was no napping for Todd, Syd and I – after a quick lunch Todd, Syd and I took a snowboarding clinic at Park City Mountain Resort. Veronica stayed with Rachel from Guardian Angel Babysitting. Veronica's mostly been with family and close friends so I was a little nervous, but Snowmama Kristen has been using their services for years and highly recommended them. Rachel was great with Veronica, comfortable from the beginning and was prepared with some books to read with her. When I asked V about her afternoon with Rachel, Veronica gave me big smile – all I needed to see.
Our 3 hour snowboarding clinic was with Jamie Hill. I think she was skeptical when we said we wanted to learn how to board in the terrain park, but after a few runs she took us up and gave us all the tools to shred the park. OK, so maybe I didn't exactly shred the park, but I did go over some jumps and a hit couple of box slides. She was a fantastic teacher and we had a blast! Toward the end of our session it started to snow – yay, fresh powder in the morning!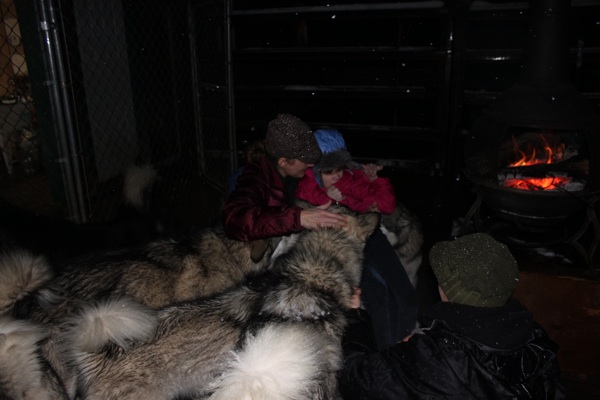 One of the things I thought our family would enjoy was dog sledding, the National Ability Center suggested Pawsatch Snow Dogs. They were already booked when I called, but Neal, the owner, invited us to come and see the dogs and equipment. We headed out there, met some of the team that runs the sledding adventures, learned about the program and met the dogs up close and personal. We went in the pen with the Alaskan Malmutes – I should have asked how many there were, but I would guess there were about 15, including a couple of puppies. They were so soft and sweet. They loved getting to know Veronica, and she enjoyed meeting them. Neal invited us back next time we're in Park City, he said he works with the National Ability center with tours frequently and really wanted Veronica to have that experience as well.
Hungry and satisfied with our day, we headed to Maxwell's for the hugest pizza I've ever seen for my family and fab gluten-free pasta for me (Snowpapa Jeff was right, it was a great stop).
We just got back from the hot tub and are winding down for the night, looking forward to another great day – and fresh powder!
Disclaimer: Park City Mountain Resort provided me and my family with free ski passes and other compensation as part of its invitation for me to participate as a Snowmama. The opinions and experiences are my own.