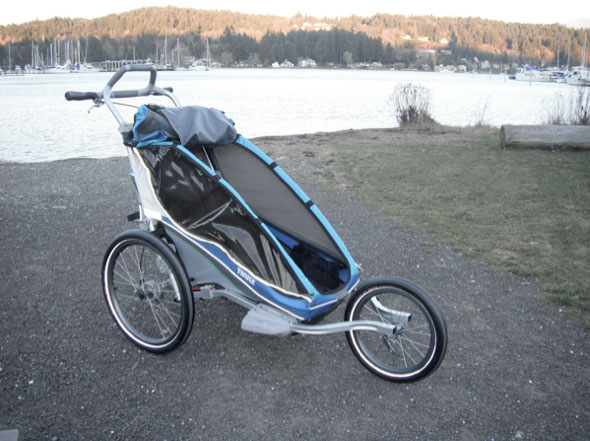 I was especially excited to test-drive the Thule Chariot CX1
uber-versatile stroller that was provided for my review.  We've tried many jogging strollers and bike trailers over the years in efforts to bring my special needs daughter along for the ride; I was really interested in the idea of having one piece of equipment that could take V jogging, biking, cross-country skiing and hiking with the family.
When the Thule Chariot CX1 stroller arrived, I was immediately impressed by its quality. Heavy-duty fabric with reinforced stitching, a solid frame and well-fitting accessories is just the beginning. Definitely built to last!
Picking up the cross-country ski attachments at local second hand store, we headed out on a ski trip the next weekend.  We took the Thule Chariot CX1 cross-country skiing and it was everything I had hoped for.  My daughter was warm and enjoyed the ride, and we loved having her with us.  The stable design meant that even this newbie cross-country skier felt comfortable towing her.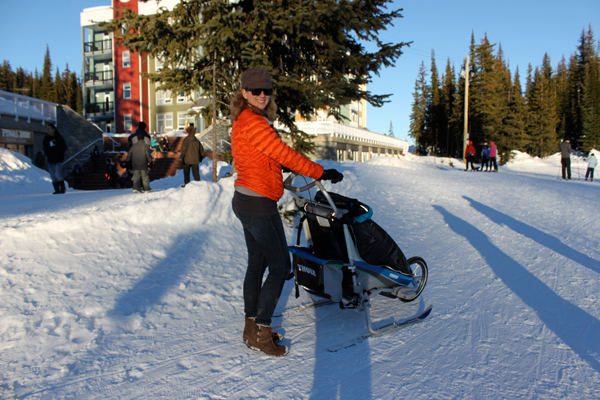 The Thule Chariot CX1 fits V very well.  She's tiny for her age – only 45lbs and about 4 feet tall.  The Thule accommodates up to 75 pounds.  There's plenty of room over her and around her – it's designed with extra head room so your child can wear a helmet, another great safety feature!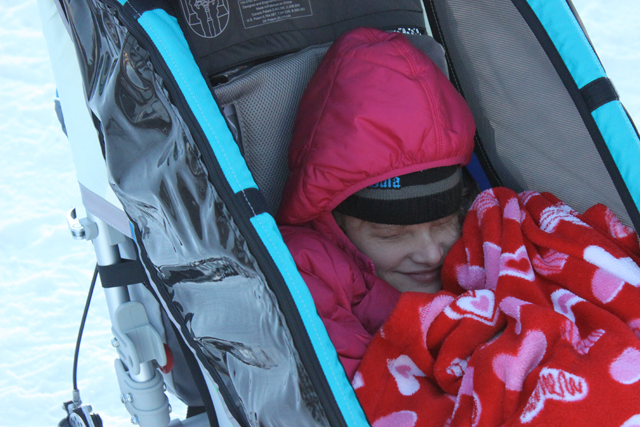 Since our ski vacation we've found more ways to use the Thule, taking it out jogging, for walks and short hikes.  In every case it's performed really well – I can't wait to take V on bike rides with the special needs bike trailer and longer hikes with the harness attachment this summer.  I can see that this jogging stroller-bike trailer-ski trailer will allow us to get out and do more as a family, and to me, that's what it's all about.
Overall thoughts about the Thule Chariot CX1
Durability – Quality construction means this will carry your child through a lot of adventures, with life left in it to pass on to another child.
Versatility – Jog, hike, cross-country ski, bike.  One solution covers a lot of activities. AND it's easy to make the switch.  We went from a jogger to a cross-country skier in just a couple of minutes.
Safety – A 5-point harness keeps your child safely in place. Disk brakes allow for better control.  There's even an integrated helmet space.  The stroller always felt stable.
Comfort – V was comfortable and cozy, with toys and a snack within easy reach.  There is a rain shield to keep the elements out when you want, and side vents for more air circulation.  They thought of everything.  V was happy, so we were able to do more.
At $1,049.95 for the jogger it is definitely an investment, but one that will allow you to get out and do more with your special needs kid.  The ski/hiking and special needs bike trailer conversion kits are extra.  I found the ski/hiking conversion kit on Craig's List, so do some checking there for the best deals.  If your child is non-ambulatory you might be able to get funding through your medical / equipment plan.  Compared to equipment specifically designed for special needs kids it's cheap, and provides an opportunity for your child to engage in activities that would not be possible with their traditional wheelchair.  You'll have to make your case, it's worth the conversation.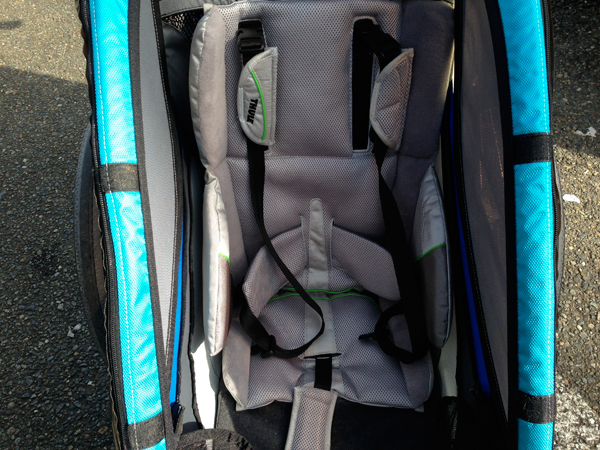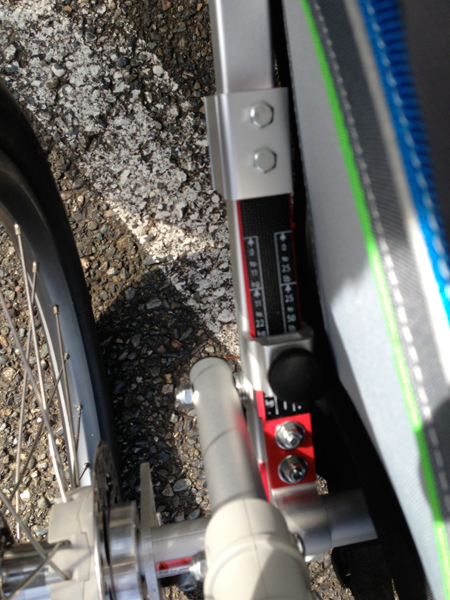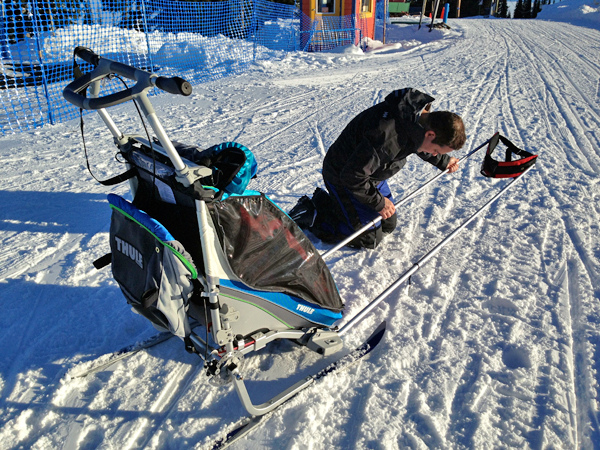 Disclaimer : The Thule Chariot CX1 was provided for purposes of this review, the views and experiences are completely my own.  The links go to my Amazon store.  I know how expensive medical equipment is for our kids and would not recommend a product unless it was truly impressive.