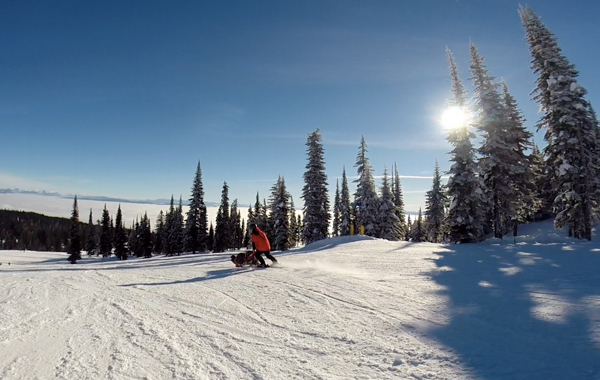 It was just 2 weeks ago that we were enjoying the snow and sunshine at Silver Star Mountain Ski Resorts in British Columbia, Canada and I miss it!  My favorite things were the fantastic snow and terrain, adaptive ski program, close proximity of village activities and how relaxed everything was.  It was a ski vacation with everything that you want, without the crowds and long lines that you often find.
The terrain was varied enough for everyone the family to be happy.  The backside, parks and free-style airbag wear out the aggressive skiers and snowboarders, while wide open blues allow for a leisurely run, or time with your kids that's comfortable and relaxed.  We spent a lot of time on the blue runs with V and the adaptive ski instructor and never got bored.
What I love about Silver Star
Aside from the great skiing, of course, I loved of the family-friendly activities that were so close to the village.  Kids could spend the evening tubing and skating (cost including in their lift ticket), and it all felt safe.  We would ski in the morning, take a break for lunch while my daughter spent time at Tube Town and the skating pond.  Feeling rested and ready to go, we'd head out for another activity like cross-country skiing in the afternoon, followed by dinner in the village and enjoying the happenings there.  The day always ended with a relaxing soak in the hot tub.  I saw kids out on the tube runs and skating rink until closing time.  Next time we'll have my teen daughter bring a friend, they would have had a blast doing their own thing.
Accessibility at Silver Star
If you have a child in a wheelchair, make sure that you talk to Guest Services about your accessibility needs, they can recommend the best places to stay.  My thoughts are to stay near the Tube Town and skating area.  Not only are you close to the fun for your kids, but there is a cleared sidewalk in front, Pinheads bowling ally is  there, too – you and your kids will enjoy that.  When we visited there wasn't any snow on the roads or in the parking lot and we were able to push my daughter's chair from the Tube Town area to the village.  When skiing, the SSASS volunteers met us in the parking lot with a sled to pull in my daughter and her chair to the adaptive ski center.  The village square center is covered with packed snow (see photo), we found it easiest to add the front wheel to our Thule cross-country ski carrier and leave the skis on the back to push my daughter around.  Like any ski area, snow can present a challenge for wheelchairs, knowing this in advance and having an extra set of hands will help.
How to get to Silver Star ski resort
Silver Star is located right outside Vernon, British Columbia in Canada.  From the Seattle area, it's about a 7 hour drive.  A few tips for driving to Silver Star:
Check the weather.  We had good weather and great road conditions. The highways are wide with multiple lanes and nice shoulders, but you don't want to be stuck in bad conditions.
Get an early start so that your mountain driving is done during the daylight.  We drove it at night, and while the roads weren't bad, it's a lot of driving on unfamiliar, isolated mountain highways.  We drove home during mid-day, more better!
Don't forget your passport!
Alaska Airlines is now flying direct to Kelowna, and that's an easy shuttle ride to the resort.  Once you are at Silver Star you won't need a car, everything is within walking distance.
Silver Star Mountain Resort
123 Shortt Street,
Silver Star Mountain,
BC Canada V1B 3M1
E. [email protected]
T. 1 800 663 4431
See current ski vacation specials from Silver Star.
Related posts: