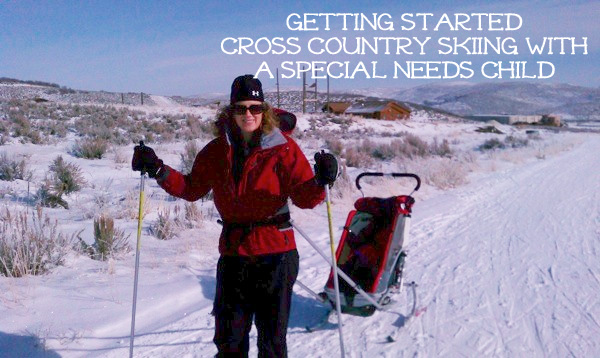 I've been hooked on cross-country skiing with my special needs child since our first outing several years ago. Swishing along the quiet trails while taking in nature with my family at our own pace – It's something that we can all enjoy together with no outside assistance required. Plus it's a great work out! We don't get out as often as we'd like, but enjoy every opportunity to hit the trails. My daughter loves being on the trail with us and usually is lulled to sleep by the rhythmic sound of our skis and the beautiful fresh air.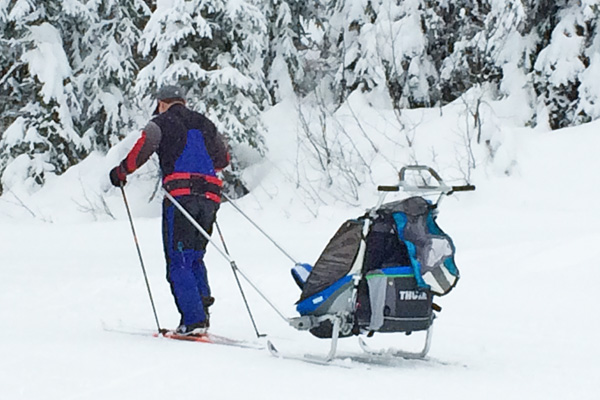 Last week we explored just a small part of Sun Peak Resort's 33 miles of Nordic trails. Luckily Sun Peaks Resort has a wide range of trails, including trails gentle enough for our less experienced family. My daughter uses a wheelchair, so she's been using a Thule Chariot CX1 trailer with cross-country ski attachments. I've been really impressed with the Thule, but on this trip we realized my daughter had had a real growth spurt. Although she was comfortable on our ski outing, we're going to need to find a new Nordic ski trailer for her. Bummer!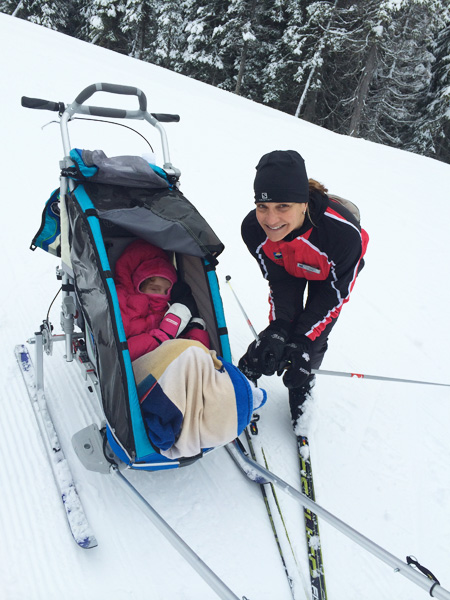 Here are my tips for cross country skiing with a special needs child:
Take lessons the first time out. Even if you are a good downhill skier, it's advisable to spend an hour or two with a Nordic ski expert. You'll learn the rules and ski etiquette, plus their best tips and secrets that will make your experience that much more fun. Also, they know all of the trails and can help you decide which ones would be best, and provide some insights.
Invest in a versatile trailer. I've only seen a ski trailer available for rent at a resort one time, so it's a piece of equipment that you'll most likely have to purchase or borrow from a friend. We found our Thule ski package at a local second hand store that advertised on Craigslist. The Thule CX1 trailer is well-made (read my review) and very comfortable for my daughter and keeps her warm so that she can enjoy the trip, which makes it more fun for everyone.   It has a rain fly that can be zipped up if it was windy or really cold. It's also easy to tow. At first I was worried about falling with her towed behind, but we've thoroughly tested that aspect and found it to be safe and secure.  Ii appreciate the versatility of the Thule – biking, hiking, jogging, skiing – so it's worth the investment if you child will fit it for a while.  I'm researching other options, now that my daughter has outgrown the Thule.
Keep your child comfortable. Make sure that they are warm enough – they won't be working as hard as you will be and can get cold quickly.  I bundle my daughter up in her ski layers and tuck a blanket around her. We bring Hot Hands, she loves holding them in her gloves. Since my daughter has severe scoliosis we also bring z-flow pillows to tuck in along her back to help give her spine comfortable support.
Dress in layers. Cross-country skiing is an aerobic activity and you can quickly overheat. Wear performance gear in layers.
Protect against the sun. Even on a cloudy day, the reflection off the snow can be intense, consider sunscreen and sunglasses for you and your child.
Bring snacks and water. Cross-country skiing can be hard work! You'll want to take a break for nourishment and hydration along the way. Granola bars, bananas, string cheese, trail mix, and peanut butter sandwiches all make easy snacks that will help keep your energy up.
Prepare for emergencies. Always bring a mobile phone and let someone know where you are going and when to expect you back. Weather patterns can change, things can happen.
Don't forget to purchase your Nordic ski trail pass! Most resorts have a separate charge for using their Nordic trails, Sun Peaks Resort Nordic trail pass is $18/day.