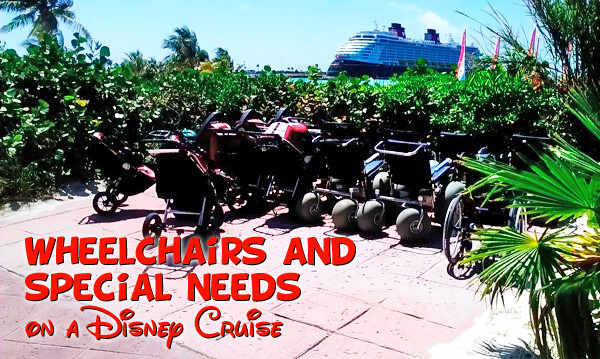 I had heard that a Disney Cruise was something special, and after experiencing one for myself I understood what they meant.  I've been on several cruises, but Disney just knows how to do things right.  The ship was beautiful, and there as many things for parents as there were for kids.  And the spa…I still dream about that experience.
If you are considering a Disney Cruise with a family member with disabilities, special needs or needing a wheelchair, start by calling the Disney Cruise Line Special Reservations Line (407) 566-3500 for help booking your trip. The representative can answer all of your special needs and accessibility questions, I found them to be really knowledgeable and helpful with everything from specific questions about how a Disney cruise can work for my special needs child to helping book an ADA room.
Tip: Ask specific questions. Determine the things that your family really needs for room accessibility, comfort, meds, program participation, etc. When you call in provide a brief overview of your child's special needs as a starting point, but then ask specific questions based on this list of what your family requires. I have found that when I get too deep in the conversation of my daughter's abilities, I don't get as helpful answers (this is not Disney-specific, but applies to any destination). The booking agent in this case knows Disney, and really can't truly understand my life, but if I have a list of things that make a trip work for my family and ask questions about those items I get more useful information.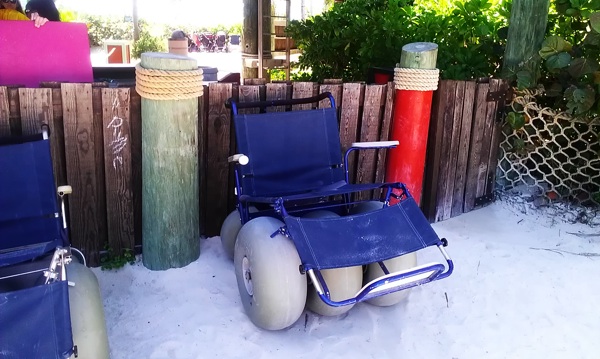 ADA staterooms
There are 37 ADA staterooms on the Disney Fantasy. A friend of mine who uses a scooter wrote a great article about accessibility on the Disney Fantasy, check it out here.
ADA staterooms feature:
32″ (minimum) doorways
Ramped bathroom thresholds
Open bed frames
Bathroom and shower handrails
Fold-down shower seats
Hand-held shower heads
Lowered towel and closet bars
Emergency call buttons
Special Equipment Available Upon Request
Bed board
Bedrail
Portable toilet
Raised toilet seat
Shower stool
Transfer bench
Refrigerator
Stateroom Communication Kits containing door knock and phone alerts, phone amplifier, bed shaker notification, a strobe light smoke detector and a Text Typewriter (TTY). Arrange to receive this kit at time of booking, or with Guest Services onboard.
Service Animals
Service animals are allowed on a Disney cruise, again, contact the Disney Cruise Line Special Reservations Line (407) 566-3500 when making reservations to let them know and Disney will make the arrangements to accommodate your furry companion.
Pool Lifts
According to Carol Carbrey, Disney Cruise Line's Special Services Manager there is a pool lift on the Disney Dream and, at time of interview late March 2012, one coming soon to the Disney Fantasy. This is a question to ask specifically when you make your reservations with Disney Cruise Line Special Reservations.
Hearing Disabilities
Assistive listening systems at theaters/performances
Guest Assistance Packets containing show scripts, available at the Guest Services Desk
Stateroom Communication Kits containing a base unit with alarm clock, bed shaker notification, door bell and phone alerts, phone amplifier, smoke detector with a strobe light and a TTY. Arrange to receive this kit at time of booking, or with Guest Services onboard.
Open captioning on a Guest's stateroom TV may be activated for the duration of the cruise by contacting Disney Cruise Line Special Services prior to sailing or contacting Guest Services once onboard the ship. In addition, common area video monitors may also be available with captions. However, Guests should be aware that due to satellite limitations, not all video sources or television signals are available with a caption playback option.
Restaurants and Room Service
All the restaurants are accessible and will make accommodations for special diets, the food is high quality and there is a good variety (my fav was Animator's Palette because of the fun entertainment). If it's easier for your family to eat in a more casual environment, Cabanas is a huge buffet on deck 11 with indoor and outdoor dining. Another great option is room service. When we travel, we spend more time in our rooms than most families just because my special needs kid ends up sleeping on her own schedule or she needs some peace and quiet, knowing that you can order room service off a great menu almost any time of day or night for no additional charge makes things a lot more relaxing. Open the door and step on on your veranda (if you have a stateroom with veranda) and enjoy! There is no additional charge for room service, with the exception of certain snacks, wines anddrinks. From 7-10am complimentary continental breakfast will be delivered to your room upon request. Don't forget to tip the crew member binging you your meal!
Onboard Entertainment
The theaters on the Disney Fantasy are wheelchair accessible. When you call the Disney Cruise Line Special Reservations Line ask questions specific to your child's accessibility requirements; special seating for hearing and vision disabilities, etc.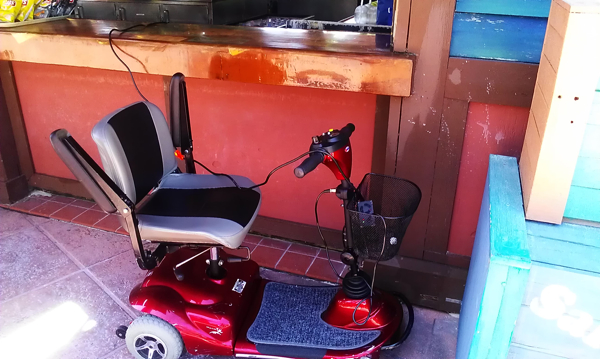 Castaway Cay
There are wide, paved pathways to every destination on the island, and a tram connecting main areas that is wheelchair and scooter accessible. Free beach wheelchairs and strollers are available, I saw one person's scooter being charged at a bar, so no worries about low batteries. Find out more about Castaway Cay.
Booking Advice
Disney advises that you book your trip 3-4 months in advance for best availability, especially if you need an ADA room or any special services set up in advance. That's a rule of thumb, of course, if you want to book a trip sooner, still give them a call and see what's available. Check back at least two weeks prior to sail date to confirm that the accommodations you have requested are in place.
Disclaimer – Disney hosted me on the Disney Fantasy Inaugural Preview Cruise, but the opinions and experiences are my own.